Complete Biomass Wood Pellet Production Line for sale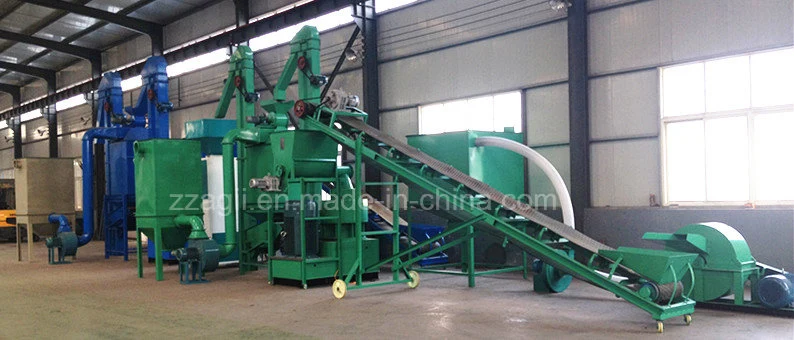 (1)

Crushing

system
(2)

Drying

system
(3)

Pelletizing

system
(4)

Cooling & Sieving

system
(5)

Packaging

system
Description

of Wood Pellet Production line:
We can make pellet making line from 200kg/h to 10t/h which is included crusher, dryer, pellet maker, cooling, packing and other auxiliary equipments. The whole line is compact structure, small occupation, low consumption and high efficiency.
Wood pellet production Line
is a very skilled process, not merely wood pellet mill but probably some other pelletizing equipment will likely be applied to the pellets production line. A great knowledge regarding how to modify the moisture, particle size and exactly how and when to add binders is quite important when making wood pellets. Because raw material is various, making wood pellets also requires correct equipment and understanding of how to perform and set up a pellet press mill in order to produce quality pellets. Wood pellet production means compressing loose wooden material straight into compact wood pellets form along with uniform dimensions, shape and density.
Configuration of wood pellet line pellet plant:
No.

Item

Model

Remark

1

Hammer mill

9FQ-80

1

30kw electric motor, 54pcs hammers, 5.5kw-fan,

2

Storage silo

4CBM

1

2.2kw motor. Storage of sawdust

3

Belt conveyor

DS-500

1

2.2kw motor, 4m long,50cm width,




frequency motor with reducer

4

Rotary dryer

6GT Ø1.2x10

1

7.5kw main motor; 18.5kw fan; 2pcs*2.2kw airlock,




1.5kw airlock, Cyclone separator and furnace.




Reduce the moisture from 35% to 10-15%

5

Belt conveyor

DS-500

1

2.2kw motor, 6m long, 50cm width,




frequency motor with reducer.

6

Pellet Machine

LG-450

1

55KW 380V,50HZ motor;

Automatic lubrication system;




Feeding silo with screw feeder and adjusting speed motor

7

Bucket elevator

TDTG-20

1

0.75kw electric motor; 4m high.

8

Pellet cooler

SKLN 10x10

1

2pcs*airlock,0.37kw-vibrating screener, Cyclone, 4kw-fan

9

Bucket elevator

TDTG-20

1

0.75kw electric motor; 4m high.

10

Packing machine

DCS-50

1

5.5kw electric motor,

thermal sealer,

A

utomatic measurement; 2.2m belt Conveyor;

300 bags/hour; 5-50kg/bag

11

Electric box

BK-1

1

Include all control system,
Raw Materials:
Requirement Raw material moisture requirement is 13%-21%; size: less than 5mm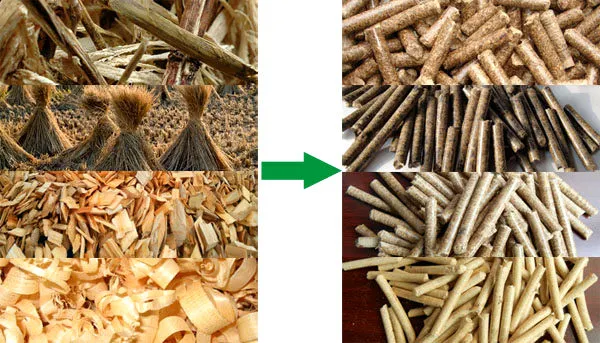 Details of Biomass Wood Pellet Line:



(1) Crushing System
When the thickness of raw wood material is >10mm, and >50 * 50mm(L * W), we need use the Wood Chipper to chip them into small pieces, then crush the small pieces into wood powder with diameter less 3mm by Hammer Mill (Crusher)
(2) Drying System
The best moisture content to pelletizing is about 13-15%. Our Rotary Dryer is made up of Stove and Main Rotary Dryer, which can realize to reduce the moisture from 60% to 10%. Our stove is fueled by coal, which can save electricity consumption largely.
(3) Pelleting System
Driven with heavy- duty gearbox construction can produce continuously in most adverse condition. The imported key elements are of high performance with long life and low maintenance cost. The key parts are made of alloy steel to be very strong and malleable. Die is made of stainless steel. Pellet machine is widely used in the granulation of wood, straw and other biomass sources.
(4) Cooling /sieving /Bagging system
After the pelletizing process, the temperature of the wood pellet is about 60-80 degree, and the moisture content of the wood pellet is about 15%, so we need use Cooler to reduce about 3-4% moisture, such this the wood pellet is easy to store.
(5) Packaging system
After cooling, the wood pellet will not directly enter into the fuel process, avoiding the wood pellet affected with damp. The packing process is necessary. In this process, we assemble our domestic best Semi-Auto Packing Machine to you.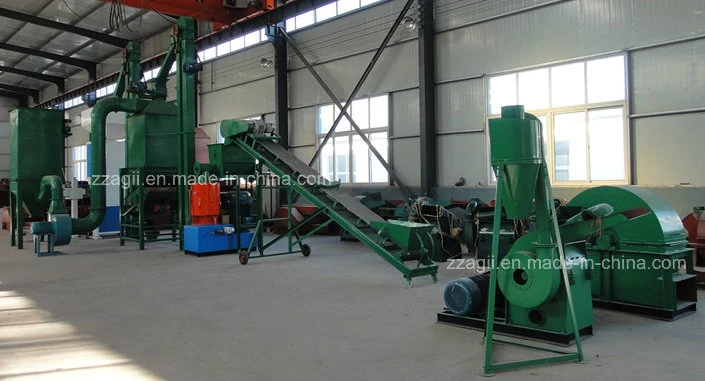 Advantages of wood pellet line:
1. Environmental Friendly.
2. Easy to store and transport.
3. Wide application and good market.
4. Effective. Wood pellets generate high heat output.
5. The raw materials are available locally, sustainable and renewable.
Application of biomass wood pellet production line:
1. Widely used in households, farming and industries.
2. Mainly suitable for producing feed pellets, fuel pellets, fertilizer pellets,etc.
3. Applied to different grains such as corn, wheat, sorghum, and any type of agro-forestry waste: crops straw, husks, vines, wood chips, etc. (Energy-saving & Environment-protecting)
4. Size range of making wood pellets: Φ3, Φ4, Φ5, Φ6, Φ8, Φ10, Φ12mm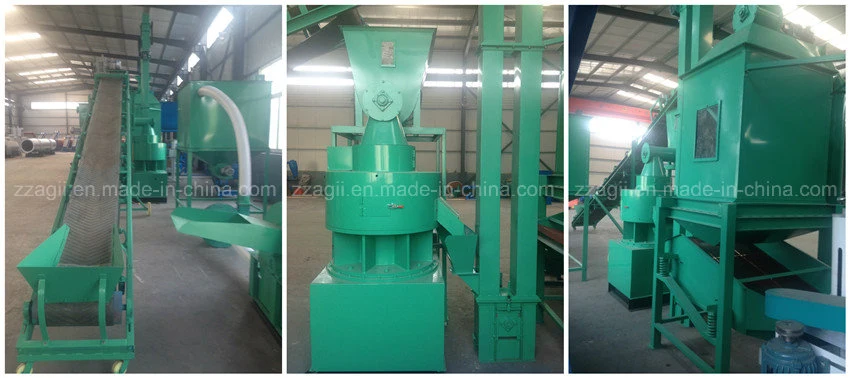 How Can You Benefit From Pellet Machine?
There are reports that the demand for wood pellets are growing and this is meant, the need of pellet exceeds supply. Over the years to come, fuel pellets and fertilizer pellets will play important roles because of the growing business value and low costand both large-scale and small-scale pellets suppliers can benefit from pellet machine.
To be a pellet supplier, first of all, you need to buy the right pellet machine. If you are interested
in fuel pellets, you should buy a wood pellet machine. As
wood pellet machine has a higher profit
, there are more and more suppliers claim that their pellet machine can produce wood pellets. So it is necessary for you to tell the differences between a wood pellet machine and other pellet machines.
When pressing pellets, wood pellet machine generated a far higher compression than fertilizer pellet machine.
Flat die design and ring die design are two main types of pellet machine
for sale. Making
wood pellets with fertilizer pellet machine will break the external and internal components. However, it is safe to buy from a wood pellet supplier to make fertilizer pellets. Here we offer you an easy way to test if a pellet machine can make wood pellets - ask for a wood pellet making video and test the quality of produced wood pellets.
You are welcome to contact us for some information about our pellet machines in detail, pellet machine manufacturing photos and wood pellet making videos are available.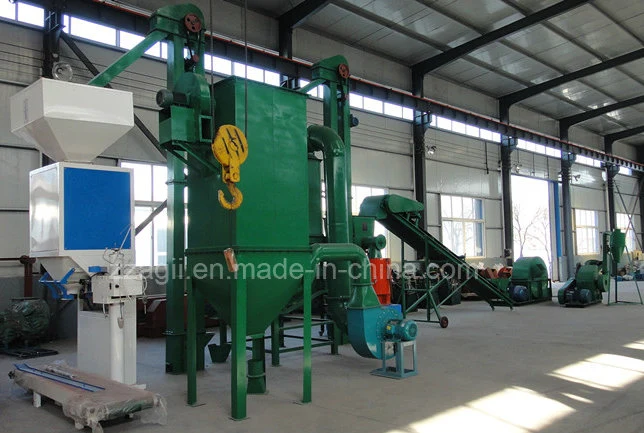 Process of Wood Pellet Production Line:
1.
Wood Crusher
( crush the big wood into small pieces like sawdust)
2.
Dryer
(dry the raw material to proper moisture before making pellets)
3.
Pellet Machine
( press raw material into pellets)
4.
Cooler
( cool down pellets and remove some moisture)
5.
Sieve
(remove dust, and broken pellets)
6.
Packaging machine
(pack pellets into bags of required weight)
Please provide information of your requirements:
1. What is your raw material and size?
2. What is the raw material moisture content?
3. What is the capacity do you need?
4. Do you need automatic system or manual packing?