VHP1510 vacuum mechanical pressure sintering furnace

We have professionals to solve your questions, please contact us directly!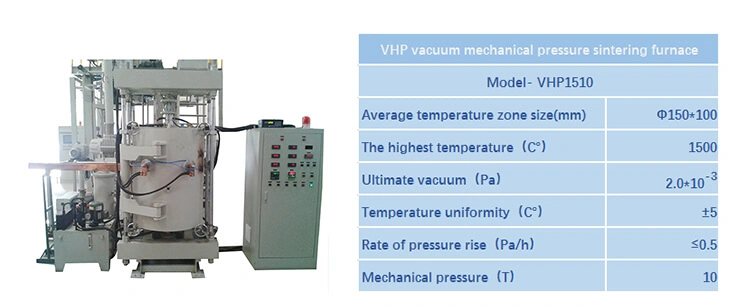 Vacuum mechanical pressure sintering furnace is a combination of vacuum, hot forming, high temperature sintering function, mainly used in powder metallurgy industry, ceramic industry forming and sintering process.
Equipment technical characteristics:
1. The furnace is horizontal or vertical structure, the pressure can be designed as a single pressure head or double head structure up and down;
2. Indenter drive shaft seal with my company's patented product, with no leakage and long life advantages;
3. Pressure sensors and displacement sensors (grating) all imported brands, long-term stability and high accuracy;
4. The furnace is equipped with temperature, pressure, water pressure, vacuum and other interlocking features, with a highly secure protection and prevention functions;
5 with remote control operation, remote fault diagnosis and remote program updates and other functions.
Optional configuration:
1. Furnace: all-carbon steel/ inner stainless steel / all stainless steel;
2. Vacuum pump: foreign brands / Chinese brands;
3. Operation panel: touch screen / industrial computer;
4. Temperature controller: SHIMADEN / EUROTHERM;
5. Heating element: molybdenum / isostatic graphite;
6. Insulation materials: Molybdenum plus aluminum silicate / composite carbon felt plus insulation soft felt;
7. Indenter material: TZM alloy / isostatic graphite;
8. According to the user can configure the rapid cooling system;
9. Temperature can choose (1300,2200 ºC);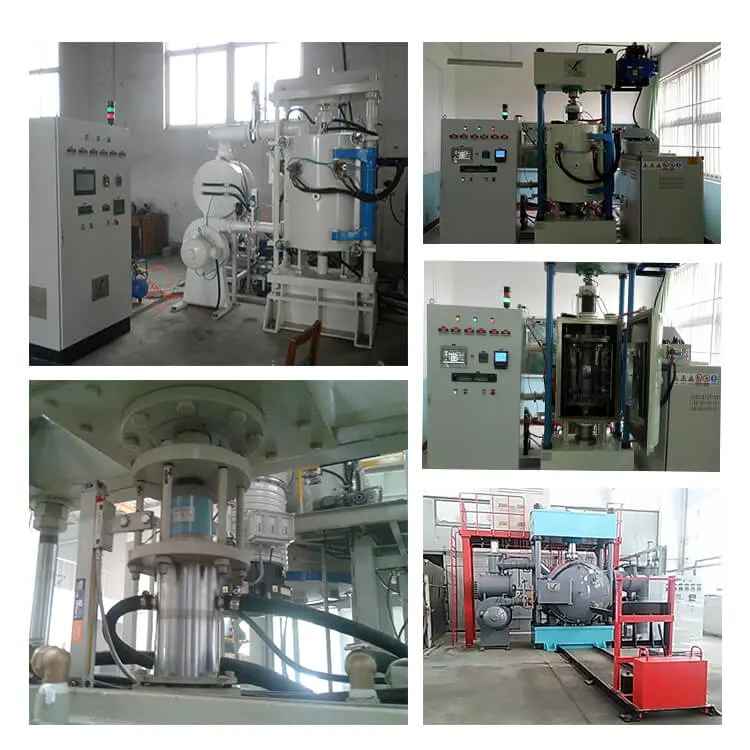 Equipment Selection Table:

(We can customize your own vacuum sintering furnace according to your special needs)

Company Profile:
Shenyang New Densen Company is the sales comoany of Shenyang Densen Group of Companies.
Features of New Densen simply summarized as below:
Densen group is specialized in vacuum-related equipment research and development and manufacturing of science and technology joint-stock company. Main production vacuum sintering furnace, vacuum brazing furnace, vacuum annealing furnace, vacuum furnace, vacuum quenching furnace, vacuum heat treatment furnace and vacuum metallurgical furnace and other equipment.

Densen group is a professional enterprise of producing magnetic series products. We has been focusing on designing and manufacturing magnetic equipment mor than ten years since 2006. Main products are Eddy current separator, magnetic separator, belt magnetic separator, Drum magnetic separator and Grate magnets.
Also, Densen group is a professional provider and manufature of metal parts,The product single weight could be from 0.01KGS to100,000 KGS; processes could be casting, forging, stamping, machining, fabrication; material could be various steel, iron and non-ferrous metals; industries cover oil & gas, mining, food machinery, agriculture, transportation, aerospace, military and universal industries.

With the help of our distinguished customers, reliable factories, and responsible staffs, ISF has been supplying products successfully to America, Australia, Belgium, Canada, England, France, Finland, Germany, Italy, Japan, Poland, Sweden and Spain.
ISF will not only manufacture and source products for our customers, but also providing technical support, production all-time supervision and quality track service. Special designed products available upon request.

Certificate qualification: