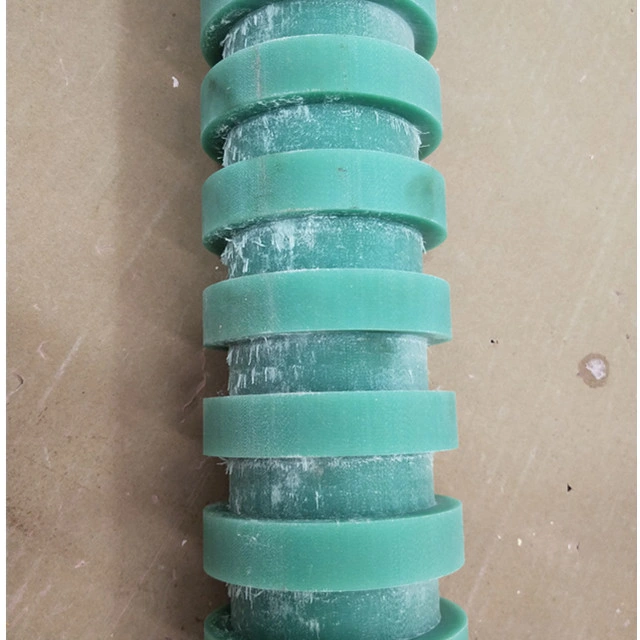 Epoxy Glass Cloth Moulded Rod
Type: FW3840 / NEMA-G10 / NEMA-FR4
COMPOSITION AND PRESENTATION
Epoxy glass cloth moulded rod consisting of fiberglass cloth has been impregnated with epoxy resin, to be dried and cured in mould under pressure with heat and machined to form a single rod.
At delivery time the presentation of the rods is as follows:
Normal diameter

:

5

-

2

00

mm




Normal length

: 200

-

1180

mm.

Beyond the above size should be discussed by the buyers and sellers
PROPERTIES & APPLICATIONS.
Appearance: surface should be smooth, without bubble, greasy dirt and impurity. Heterogeneity of color, scratch, slight unevenness not hindering its use are permitted. Cracks, not hindering use, on top surface or section for the rod with diameters more than 25mm are permitted.
The product has higher mechanical and dielectric properties as well as good machinability. They are mainly
used
in
electric
device as insulation construction parts, and used in moist circumstance and transformer oil.
MAIN TECHNICAL CHARACTERISTICS
Specifications

Unit

Type

3840

G10

FR4

Density

≥

g/

cm

3

1.70

-

1.79

Water absorption, D-24/23

≤

%

--

0.5

(

F

13mm)

0.5

(

F

13mm)

Flexural strength

≥

MPa

343

241.30

241.30

Tensile strength

≥

MPa

196

--

--

Compressive strength

(axial)≥

MPa

--

241.30

241.30

Insulation resistance

≥




A: under normal conditions




D-24/23

: Impregnated in water




Ω




1.0X10

10




1.0X10

7




--




--




--




--

Breakdown voltage parallel to




laminations in

oil ≥

KV

15.0




(9

0

±

5

ºC)

15.0




(9

0

±

5

ºC)

15.0




(9

0

±

5

ºC)

Flammability

--

--

--

FV0

Color

--

nature

green

green