High quality Extruder Machine, Extruder Machine ldpe, extruder machine plastic recycling
Description of
PP PE Plastic Waste Film Recycling Granulator
PE film plastic pelletizing recycling machine with international advanced recycling technology and combined with the actual application condition. This plastic pelletizing recycling machine is design specializes for recycling the washed plastic PE film, such as PE plastic bags, plastic packing films, plastic shopping bags, plastic handbag etc.
After processing techniques such as compression, heating, melt, pelletizing, cooling, drying etc., the final products are plastic pellets, granules, which can be to produce garbage bags, drainage pipes, plastic board etc.
Working Flow of
PP PE Plastic Waste Film Recycling Granulator
Belt conveyor → Compression barrel (agglomerator) → Efficient extruder → Non-stop hydraulic screen filter changer → Water ring cutting pelletizing → Vibration machine → Dewatering machine → Blower → Storage hopper → Electric control panel
1. Belt conveyor feeding: as standard design, plastic scraps such as film, bag, filament, raffia conveyed into the compacting barrel through belt conveyor; to process rolls' scraps, roll hauling off device is an optional feeding method. Motor drives of conveyor belt and hauling device cooperate with ABB inverter. Feeding speed of conveyor belt and roll hauling off is fully automatic based on compactor's barrel'
space. Metal detector can combined with belt conveyor, and can interlock with control system, to warn and stop the system, in case that metal into the screw.
2. Compression barrel: crushing and compacting the material, the rotatory blades of compactor will cut up incoming scraps. Frictional heating which caused by high-speed rotatory blades will heat the scraps, and let them shrinking just below their agglomerating point. Optimal designed guide structure compacts the material and directs it into extruder screw. Crushes, dries and compacts the material, which enables a fast and stable feeding from the compactor directly into the extruder.
3. Extruder: to plasticization and degassing, a specialized single screw extruder applied to melt the pre-compacted material. The plastic scraps will well melted, plasticized in the first stage extruder, and the plastic will be extrude by the second stage extruder. With double-zone vacuum degassing system, volatiles such as low molecular and moisture will be removed efficiency, especially suitable to heavy printed film and material with some water content.
4. Non-stop hydraulic screen filter changer: double stage filtering, fore filtering in the first extruder, and fine filtering in the second extruder, to reduce the frequency of filtering sieves changing. The requirements on the filter technology depend heavily on the quality of the input material as well as the planned use of granules.
5. Cutting pelletizing: die-face water ring pelletizing system as the standard granulating method in Yurefon system. Self-adjusting pelletizing head for the best granulate quality, and consistently correct blades pressure can ensure long running. Rotate speed of cutting blades is automatic based on melt extruding pressure. Advanced dewatering vibration sieve combining with vertical-type centrifugal dewatering present high performance dried pellets.
Parameters of
PP PE Plastic Waste Film Recycling Granulator
CAPACITY


(kg/h)

POWER CONSUMPTION


(kw)

WATER CONSUMPTION

LABOUR

HUMIDITY CONTENT

100-150

150

Keep water cool

1-2

<2%

250-300

200

Keep water cool

1-2

<2%

350-400

280

Keep water cool

1-2

<2%

450-500

360

Keep water cool

1-2

<2%
PP PE Plastic Waste Film Recycling Granulator
Advantage:
Need low labor request.
Stable running.
Automatic constant temperature control.
CE certification, ISO9001 certification, SGS certification
Configuration based on client requirement and material, and give reasonable suggest.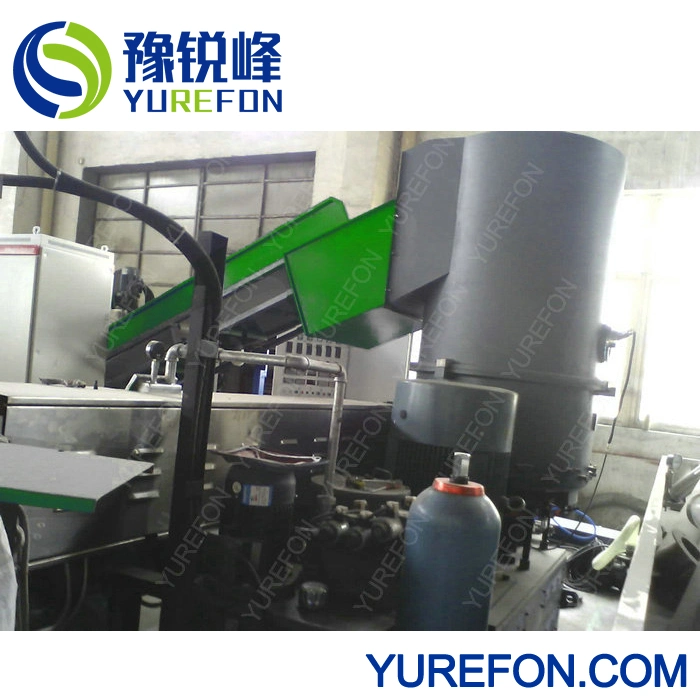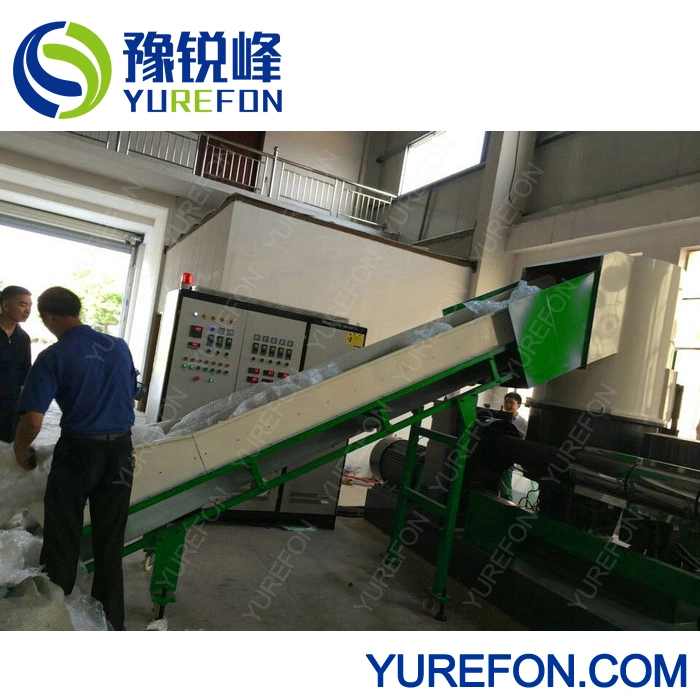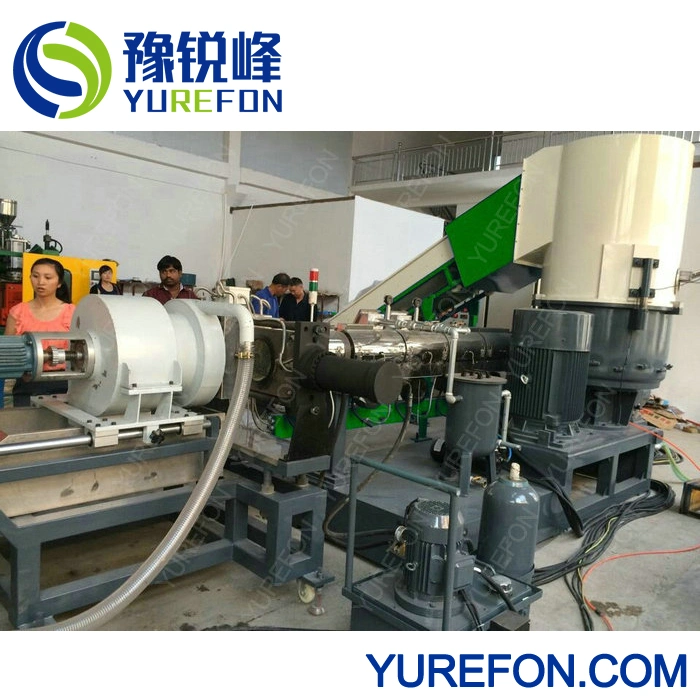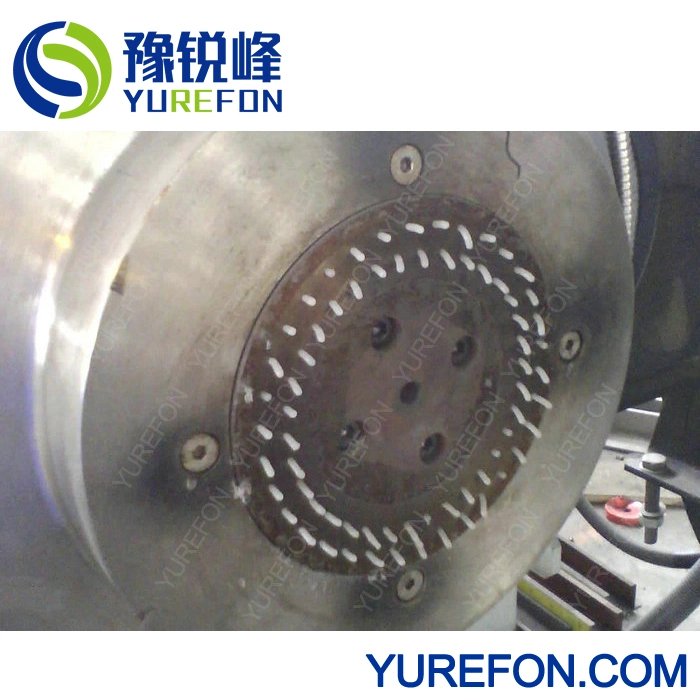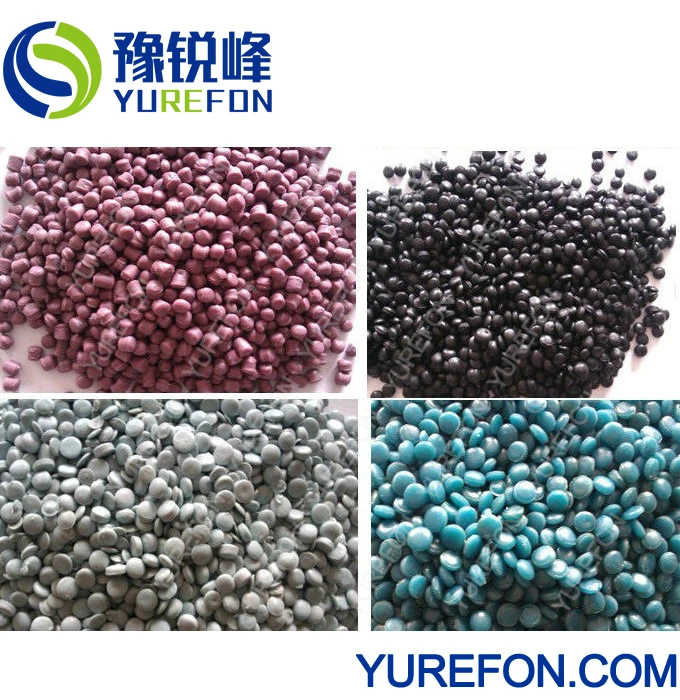 We are professional
High quality Extruder Machine, Extruder Machine ldpe, extruder machine plastic recycling
manufacturer factory.
Any question please contact me
Mob:
+86 13913190110
(Whtap/ Vber/ Telgram/ Line)