SHEET MOLDING COMPOUND HYDRAULIC PRESS MACHINE
Yz71 Series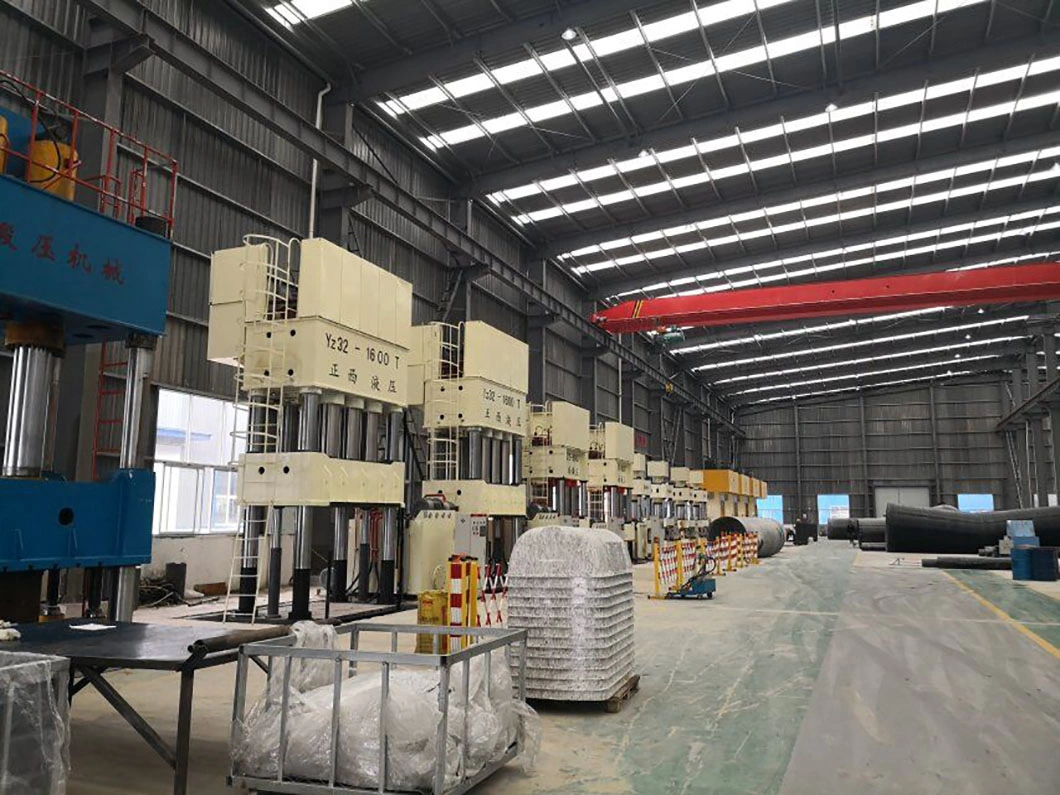 Technical specs
Structural form

H-frame type

Model

Unit

500A

630

800

1000B

1000C

1500B

2000B

2500A

Pressure capacity

KN

5000

6300

8000

10000

10000

15000

20000

25000

Lifting capacity

KN

1000

1200

1000

1000

1000

1150

1400

1700

Worktable size F-B

mm

1400

1400

2200

2200

2200

2600

2400

2500

Worktable size L-R

mm

1400

1800

2800

3200

3000

3400

3200

3500

Open height

mm

1500

2200

2400

2400

2400

3200

3200

2200

Slide stroke

mm

1000

1700

1900

1900

2000

2600

2650

1600

Slider fast descending speed

mm/s

200

200

400

300

500

400

400

300

Slider slow descending speed

mm/s

5-50

5-50

25-50

25-50

25-50

25-50

25-50

50

Slider preloading speed

mm/s

1-25

1-25

1-25

1-25

5-25

1-25

1-25

3-18

Slider pressing speed

mm/s

1-8

1-8

1-15

1-15

1-9

1-15

1-15

1-6

Opening speed

mm/s

2-25

2-25

2-25

2-25

1-5

2-25

2-25

2-25

Slider slow returning speed

mm/s

5-100

5-100

5-30

5-30

15-45

5-30

5-30

5-100

Slider fast returning speed

mm/s

200

195

190

200

200

200

200

220

Motor power

KW

49

59

161

153

78

200

233

181.5

Physical dimension B ( L-R)

mm

3150

3160

4270

4300

4450

4450

4350

4900

Physical dimension A (F-B)

mm

4150

4650

6350

7134

5340

7300

7300

8900

Physical dimension C (Total height)

mm

6500

6900

7300

7425

8450

9200

9500

7550

Pit size E (F-B)

mm

4000

4000

4500

5000

4600

5000

5000

5400

Pit size D (L-R)

mm

4150

4650

6500

7000

6800

7500

7500

8000
Structural form

Four-column type

Model

Unit

315

315A

2000

2000A

3200

4000

Pressure capacity

KN

3150

3150

20000

20000

32000

40000

Lifting capacity

KN

630

630

3000

1600

5000

3200

Worktable size (F-B)

mm

1120

1120

2500

2000

2600

2400

Worktable size (L-R)

mm

1120

1120

3000

2200

2600

2400

Open height

mm

1250

1250

2000

1350

2200

1000

Slider stroke

mm

800

800

1100

1000

1500

1000

Slider fast descending speed

mm/s

120

120

80

80

70

30

Slider slow descending speed

mm/s

/

/

10

4-16

5

0.2-0.7

Slider pressing speed

mm/s

5-12

5-12

1-3

2-3

2-4

2-8

Opening speed

mm/s

/

/

4-10

0-4

2-5

0.2-3.3

Slider fast returning speed

mm/s

60

60

65

60

40

50

Motor power

KW

18.5

18.5

128

90

4-5

70

Eject force

mm

630

630

400

/

5000

1000

Eject stroke

mm

300

300

350

/

350

300

Eject speed

mm/s

55

55

50

/

40

50

Physical dimension B ( L-R)

mm

1180

1180

4855

3300

3000

3500

Physical dimension A (F-B)

mm

1600

1600

6500

4450

5300

4600

Physical dimension C (Total height)

mm

4300

4300

7300

6100

9000

8000

Pit size E (F-B)

mm

2800

2800

1855

6500

7000

5500

Pit size D (L-R)

mm

2200

2200

6500

4450

9500

8000
Sheet Molding Compound for car parts
ZHENGXI is a historical supplier of large hydraulic press systems for plastic and composite forming applications. One of our core competencies lie in the production of hydraulic press for SMC (Sheet Molding Compound) - BMC (Bulk Molding Compound) / GMT (Glass Mat Thermoplastics). These press systems represent the best option when it comes to high volume production of composite parts with high mechanical properties.
SMC - BMC - GMT COMPRESSION PRESS SYSTEMS
We supply SMC, BMC & GMT compression press systems, with capacity from 5,000 up to 40,000 kN, working at very high pressure. All the expertise of ZHENGXI relies on the low consumption / high performance feature, realized through active levelling and PLC control.
Our products allow you to save energy and time, with cycle time from 45 seconds for structural parts up to 120 seconds for highly technical parts such as trunk lids or tailgates.
SMC - BMC - GMT FORMING PRESS FEATURES:
Effort from 5,000 up to 40,000 kN

Platen size up to 3,000 X 2,500 mm

Opening 3,000 mm

Stroke 2,000 mm

Fast closing speed 600 mm/s

Working speed 20 mm/s

Fast opening speed 600 mm/s
Integration in automated production lines
Furthermore, you can benefit from the ZHENGXI know-how in complete automated production lines, all our presses can be implemented with automatic loading and unloading robots, cutting systems or other add-on equipment such as HP RTM or vacuum systems, GMT oven or thermal regulation skid. ZHENGXI press systems can run both automatically and semi-automatically, whatever your needs. More than 100 units are running worldwide, manufacturing parts for well-known companies of the auto, aeronautics, aerospace and energy industries. Sheet Molding Compound for car parts.


Product show