powder metallurgy hot press sintering furnace,vacuum hot press furnace,vacuum furnace
Application of powder metallurgy hot press sintering furnace,vacuum hot press furnace,vacuum furnace
The vacuum hot pressure furnaces is used kinds of ceramic as below:
metallurgy(MIM and CIM), cemented carbide, technical ceramics (MLCC, LTCC, HTCC), 3D-Printing etc.
Vacuum hot press furnace is used for teaching, scientific research and production.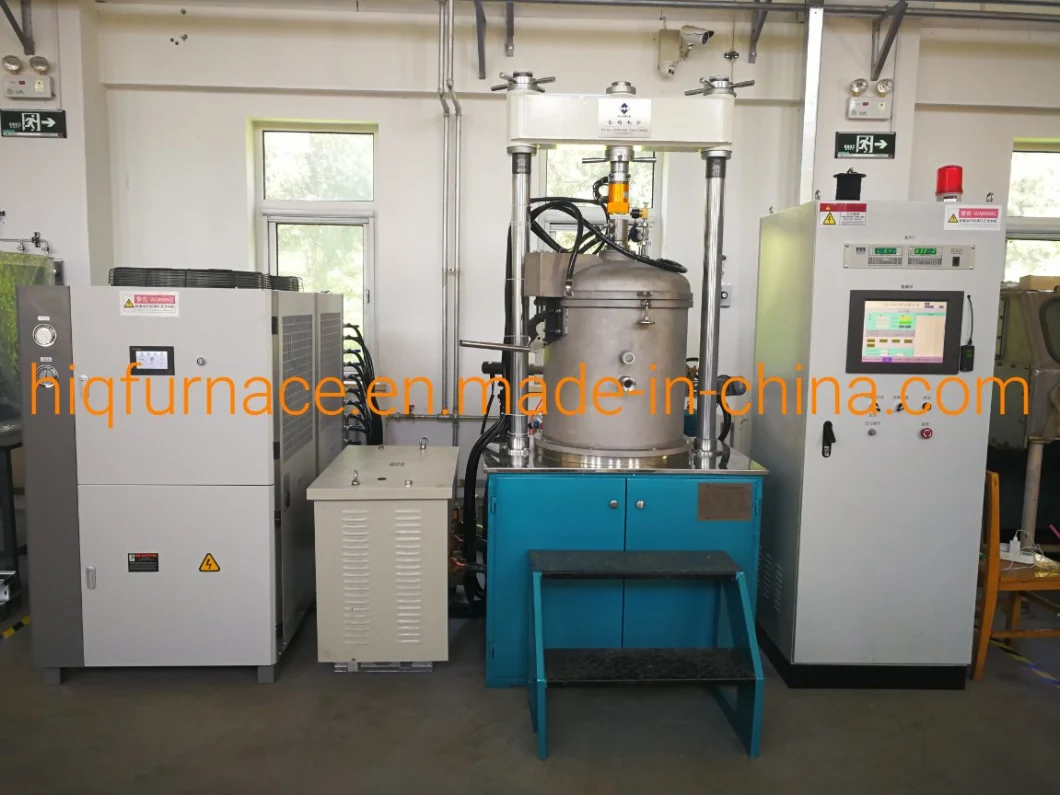 Vacuum hot press furnace is mainly used for nonmetal materials, carbon composite materials, ceramic materials and metal powder materials hot-press sintering experiments in vacuum or protected atmosphere.Sinter HIP furnace series are designed to integrate the functions of pressure de-waxing, vacuum de-waxing, vacuum sintering, TORVAC, partial pressure sintering, pressure sintering, atmosphere sintering, fast cooling and etc.With atmosphere sintering function, process gases like Ar, H2, CH4 and N2 could be used to control chamber atmosphere of de-waxing and sintering process.Horizontal design for easy loading, unloading and maintenance.Automatic control during whole process.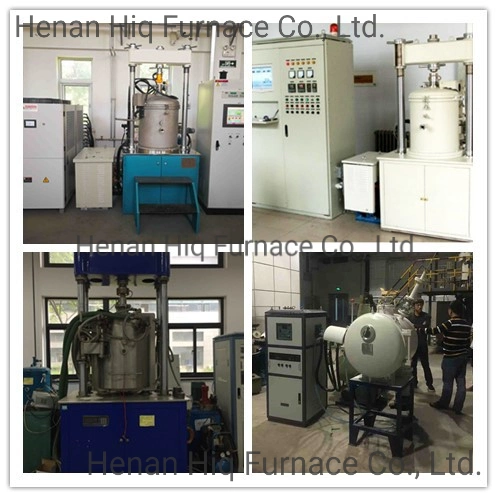 Features of powder metallurgy hot press sintering furnace,vacuum hot press furnace,vacuum furnace
The hydraulic system is composed of electric hydraulic machine, overflow valve, electromagnetic reversing valve, hydraulic cylinder and fixed frame. The hydraulic cylinder is installed in the middle of the furnace base. The hydraulic oil passes through the electro-hydraulic system, enters the oil cylinder through the overflow valve and the electromagnetic reversing valve, so that the oil cylinder can be lifted and lowered, which can realize the function of pressure regulation and pressure keeping, and can set the intelligent digital display program instrument according to the user's process requirements. To realize the function of automatically adjusting the pressure; the pressure and displacement are all displayed by digital display instrument, and there is overpressure alarm and safety lock function.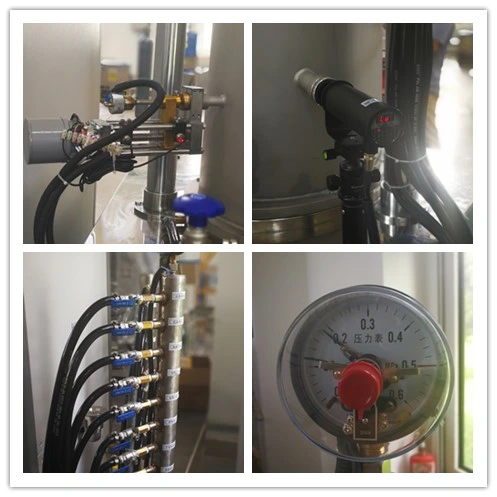 3. The bottom part of the furnace is equipped with an electrode introduction device, an intake valve, a lower pressing head and a sensor capable of displaying the displacement distance; the indenter is made of stainless steel (SUS304) material and is provided with circulating cooling water.
4. The heating element is made of high-purity graphite, which is processed into a three-phase heating element and connected with the electrode, and is controlled by the three-phase power supply of the electric furnace control system. After the transformer is stepped down, the copper row is connected to the three extraction electrodes to form a control. The circuit; the electrode device has a water cooling cycle.
5. The heat shield around the top and the top of the furnace is composed of graphite carbon felt. It is processed into an integral heat insulation system, which can be easily installed and repaired. The bottom is equipped with a number of graphite indenters made of high-strength graphite. It can be used to adjust the height of the mold during hot pressing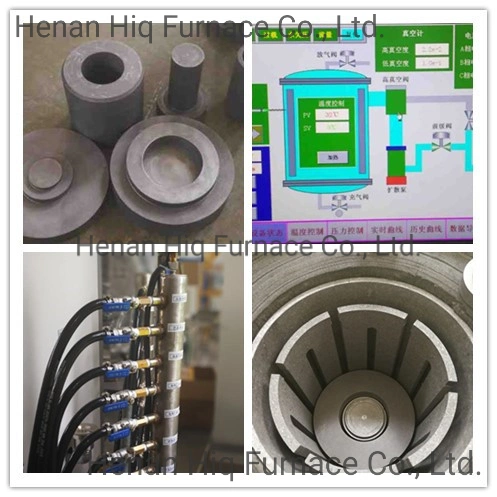 Techanical parameters of powder metallurgy hot press sintering furnace,vacuum hot press furnace,vacuum furnace
Model
Heating element
Max,temp
Ultimate vacuum
Pressure
Working size
Power
KW
Volume
Protective
gas
HIQ-22HP-9
Molybdenum/Tungsten
/Graphite
1700/2400
6.7X10-4Pa
10T
Dia90*120
25
0.7
N2,Ar,H2 etc
HIQ-22HP-15
20T
Dia150*160
40
2.8
HIQ-22HP-18
20T
Dia180*200
65
5
HIQ-22HP-24
50T
Dia240*250
80
10
HIQ-22HP-30
100T
Dia300*320
120
20
HIQ-22HP-50
100T
Dia500*800
160
150
HIQ-22HP-65
100T
Dia650*800
250
250
HIQ-22HP-57
100T
Dia750*1500
500
650
HIQ-22HP-90
100T
Dia200*2000
750
1200
Our factory have rich experience for vacuum furnace, can design furnace according to your need, If you have any requirments, plz feel free to contact with me.
Our services
Guarantee:
· One year, We provide permanent technology support.Warranty period appear quality problems free maintenance.After the warranty we need to replace parts we provide at cost price.
· Any technology question, we can provide video instruction, remote video instruction or fly to your country.
· Any problem we will handle in time within 24 hours
Quality:
· We can very professional QC team and every steps of processing we will strictly on quality.
· Our products will be conform international standards and has the CE certificate.
We know how important it is to maintain continuity of production. We take responsibility for the proper functioning of your equipment, leaving you time to run your business.
Servicing equipment during a breakdown is the worst possible scenario. System failure is unexpected, surprising and always at the wrong time. HIQ is prepared to deal with these situations. In order to raise the service reliability of your equipment, we offer comprehensive support services.
Professional technical services by HENAN HIQ FURNACE CO,.LTD
The engineering team at HIQ has the knowledge and experience to manage fleets of heat treating equipment in a planned and professional manner regardless of the equipment manufacturer. The solutions we offer are universal because they are based on best practices for failure prevention in the best sense of the word. Professional Technical Services provided by HIQ is more than the repair in case of failure. We understand how the equipment works and we increase uptime with the help of automated process maintenance that supports equipment architecture and technology solutions including renovation, modernization, and relocation services. HIQ carries out preventive inspections and the subsequent preventive measures using advanced tools in the field of metering and reporting.
You no longer have to worry about downtime and additional costs.
HIQ services are available around the clock, 7 days a week.
Sounds good? This is just the beginning of the benefits!