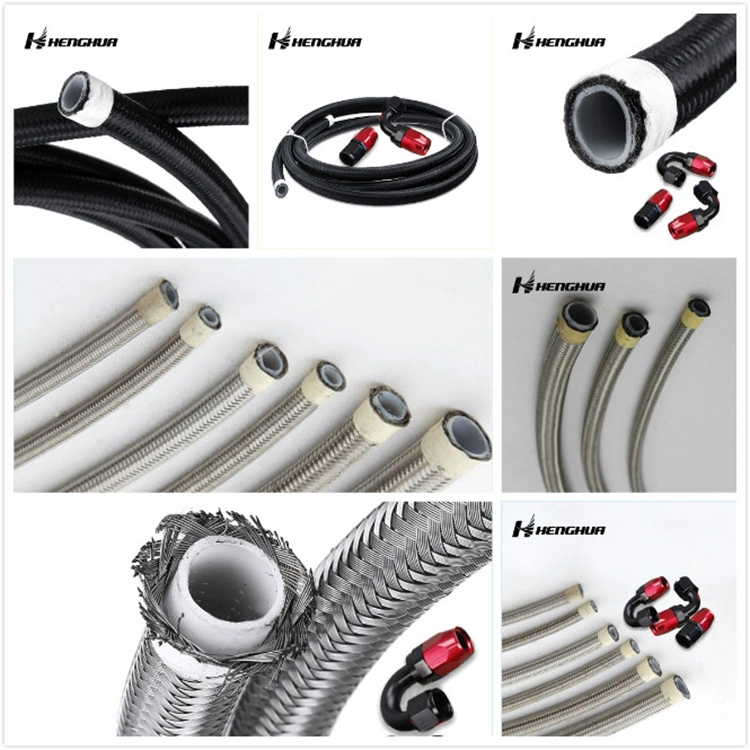 PTFE brake hose was originally used in the aircraft's hydraulic system.
The inner tube is made of PTFE,It can withstand high pressure and high temperature.
Middle is stainless steel grid, not easy to break and can greatly reduce the possibility of brake failure caused by broken.
Transparent nylon with high temperature and low expansion characteristics, providing excellent hydraulic transmission effect.
So that the hydraulic pressure from the master cylinder can be used to fully propel the piston of the cylinder, providing a stable braking force. Best brake hose is a necessary modification for racing cars,it is safety guarantee for general road vehicles.
1.PTFE materials for inner tube
2.304 Stainless steel wire braided for reinforcement
3.SS Braided or Black nylon braided for cover tube
4.AN Size: AN4,AN6,AN8,AN10,AN12,AN16,AN20
5. Bulk hose and oil cooler hose assembly for your chose.

Stainless Steel braided oil cooler hose
PTFE Inner Tube+SS Reinforcement+SS Cover
Introducton of the PTFE an hose
Inner layer: PTFE
Enhancement layer: stainless steel wire braids (AISI STEEL 304)
Features:This stainless steel braided hose consists of a teflon (American Dupont) extruded core with a heavy duty, protective, full stainless steel braid on the outside, making it exceptionally lightweight, flexible, and durable. Even better, the hose is designed to handle any fuel (including methanol and nitromethane), oil, coolant, brake, transmission, clutch, powersteering fluids and nitrous oxide.
The Telfon (PTFE) core makes this hose significantly more durable and longer lasting than standard rubber nitrile stainless steel braided hose.
Product performance:
high temperature resistance, long lasting and good durability, acid and alkali resistance, ozone resistance, low friction coefficient, long using life and non-aging.
Purpose:
because of wide using temperature range it can be used for food processing, high temperature fluid, chemicals and compressed gas.
Temperature range: -65ºC ~ +260ºC
Black nylon oil cooler rubber hose
SN
I.D
O.D
W.P
B.P
Minimum Bend Radius
Temperature Range
mm
mm
MPa
MPa
mm
min
max
4
5.56
11.17
3.45
13.8
50.8
-40
148.9
6
8.71
14.22
3.45
13.8
63.5
-40
148.9
8
11.13
17.2
3.45
13.8
88.9
-40
148.9
10
14.29
20.83
3.45
13.8
101.6
-40
148.9
12
17.46
24.38
3.45
13.8
114.3
-40
148.9

Stainless steel wire braided oil cooler rubber hose
SN
I.D
O.D
W.P
B.P
Minimum Bend Radius
Temperature Range
mm
mm
MPa
MPa
mm
min
max
4
5.56
11.13
7
42
50.8
-40
148.9
6
8.73
13.89
7
42
63.5
-40
148.9
8
11.12
16.28
7
35
88.9
-40
148.9
10
14.27
20.24
7
35
101.6
-40
148.9
12
17.47
23.82
7
26.3
114.3
-40
148.9
16
22.22
29.36
5.2
17.5
139.7
-40
148.9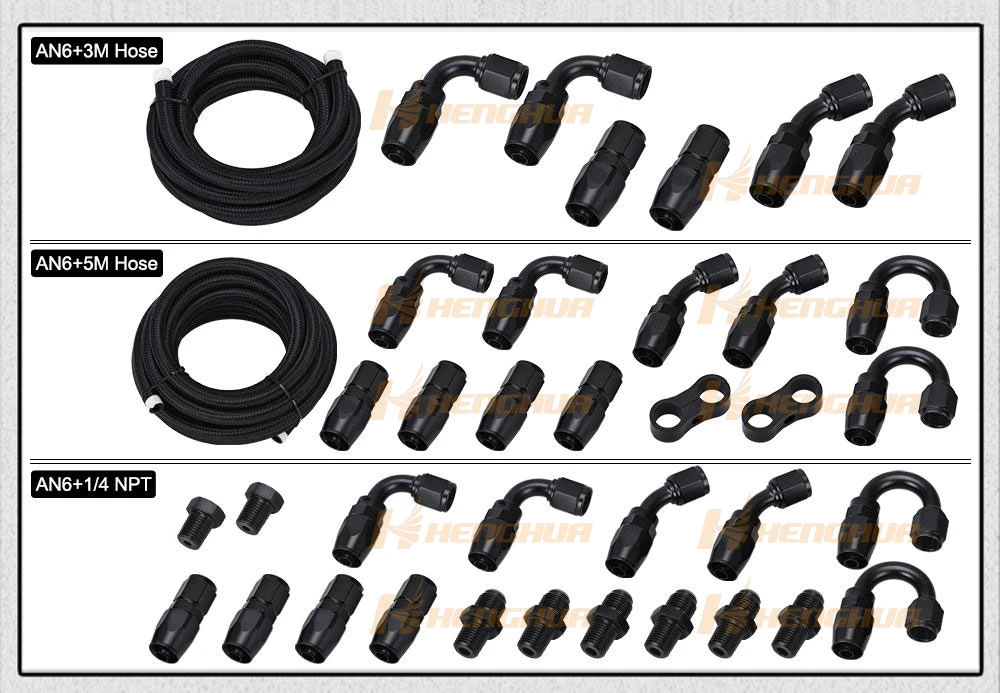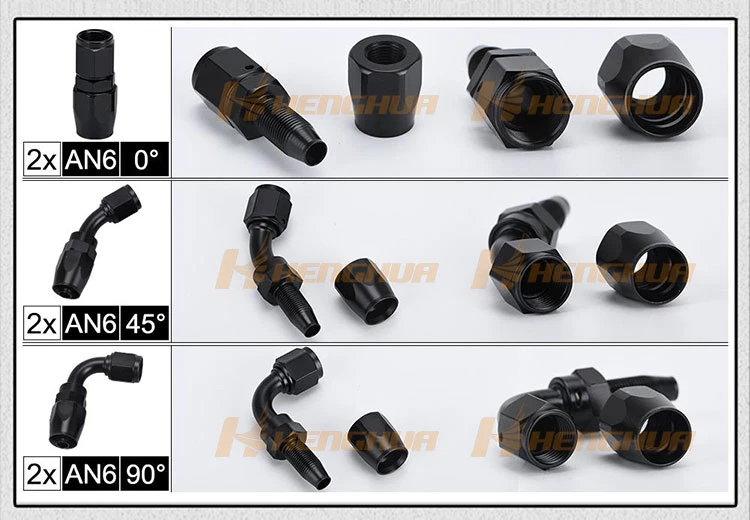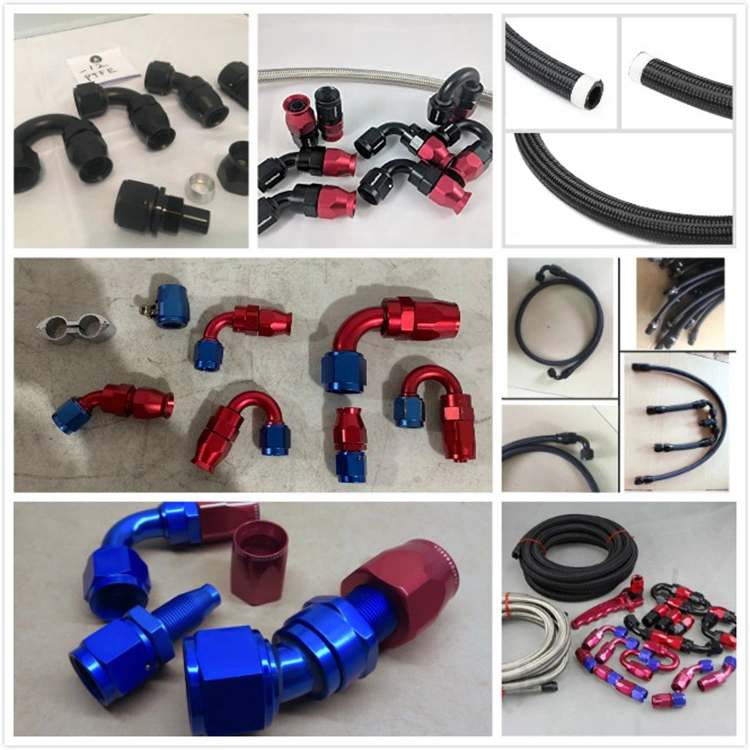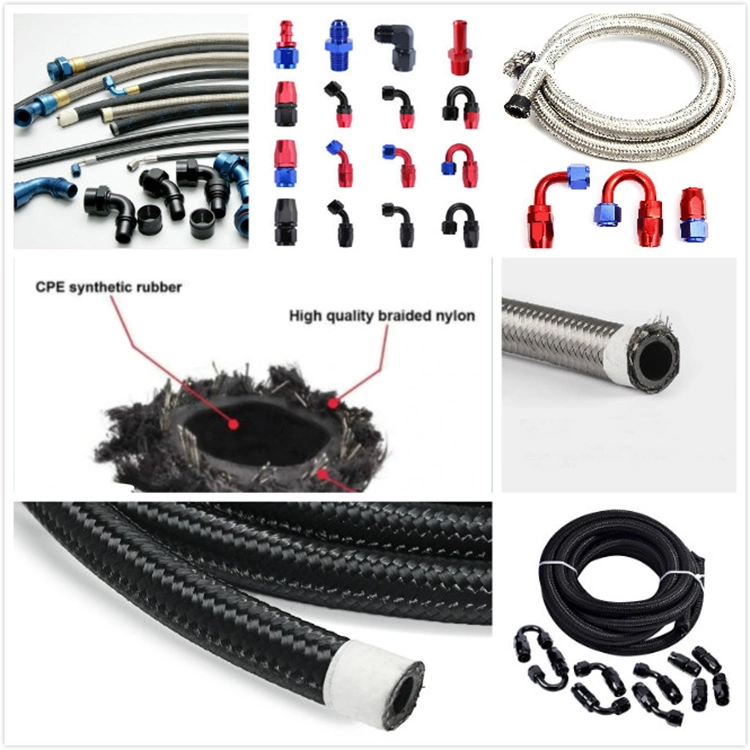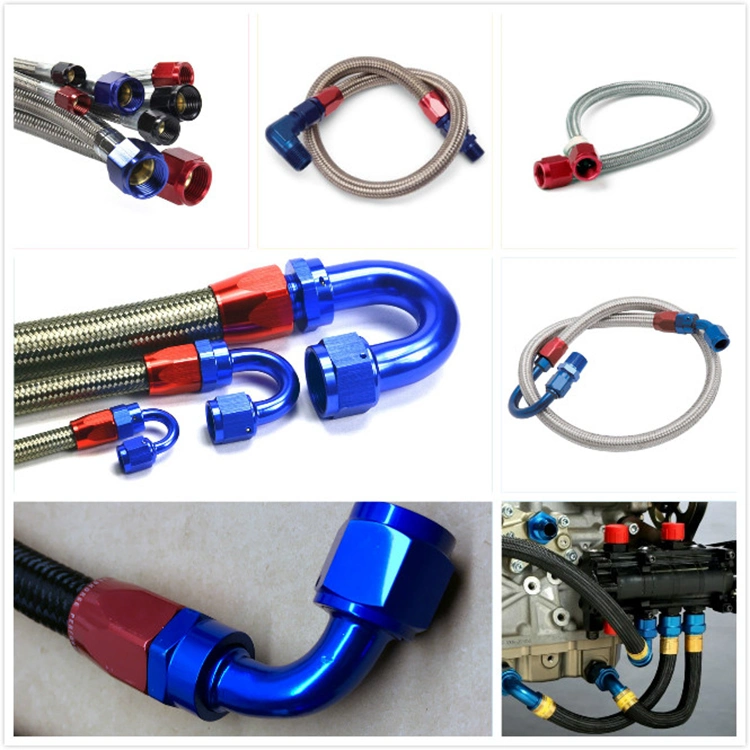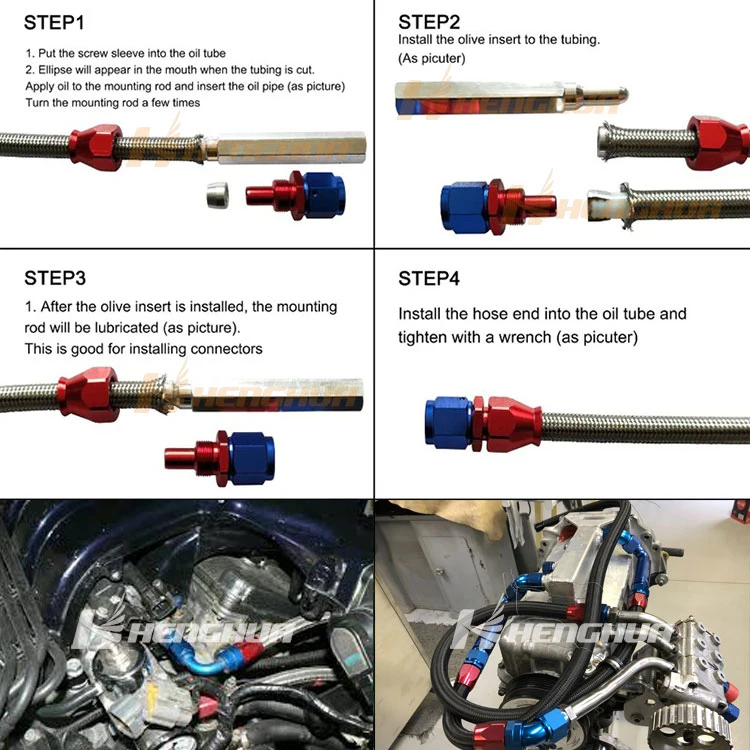 Hydraulic Hose

Reinforcement

Product Name

One steel wire braided

SAE R1AT/DIN 1SN,SAE R1AT/DIN 1ST,DIN 1SNK,DIN/EN 1SN WG,DIN 1SC,SAE R5,SAE 100R17

Two steel wire braided

SAE R2AT/DIN 2SN,SAE R2AT/DIN 2ST,DIN 2SNK,DIN 2SC

One/two wire braided

SAE R16

Four steel wire spiral

SAE R9AT,SAE R10,SAE R12,DIN 4SP,DIN 4SH

High flexibility nylon or thermoplastic

SAE R7,SAE R8

Industrial Hose

Steam hose,Water/Air hose,Fuel/Oil hose,Washer hose
| | |
| --- | --- |
| Product Name | Chief Introduction |
| Air Hose | High strength synthetic yarn reinforced |
| Water Hose | High strength synthetic yarn reinforced |
| Oil Hose | Single/double synthetic yarn braided or spiraled |
| Welding Hose | High strength synthetic cord reinforced |
| Gas Hose(LPG Hose) | High tensile synthetic yarn braided or spiraled |
| Heat Resistent Hose | 1 or 2 piles of fiber braid reinforcement |
| Air Condition Hose(Freon Hose) | Strengthen lining is weaving fiber |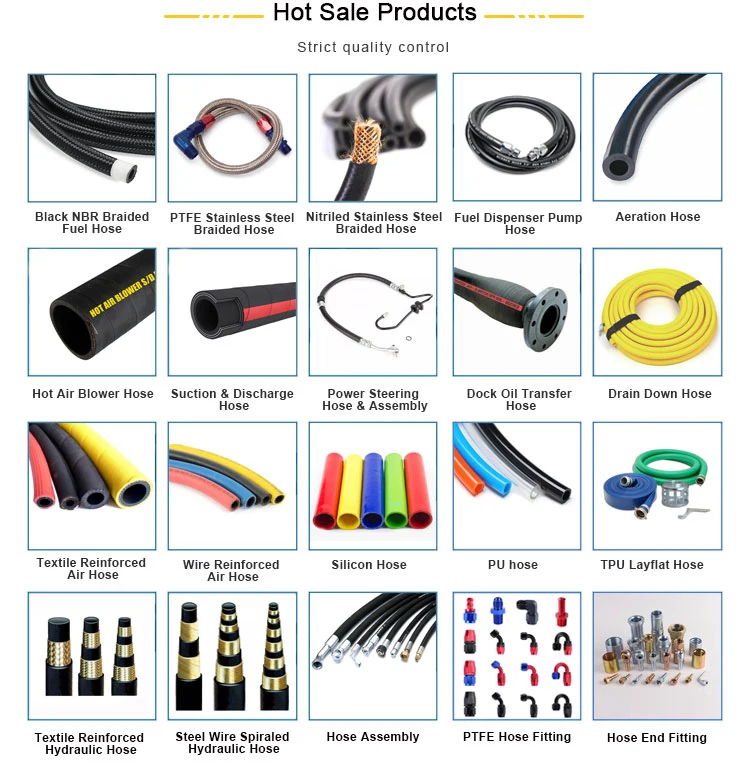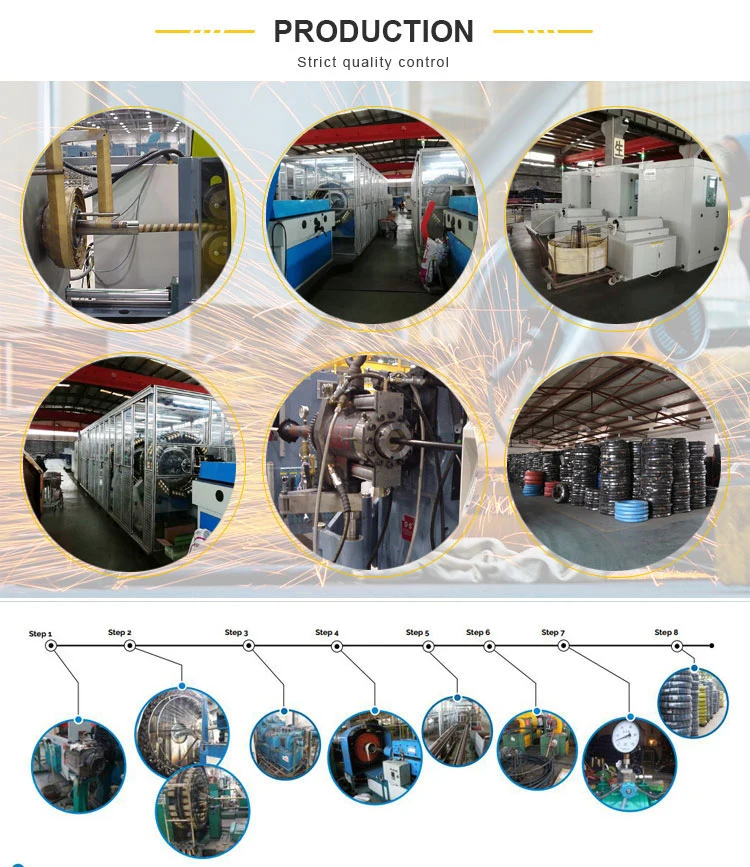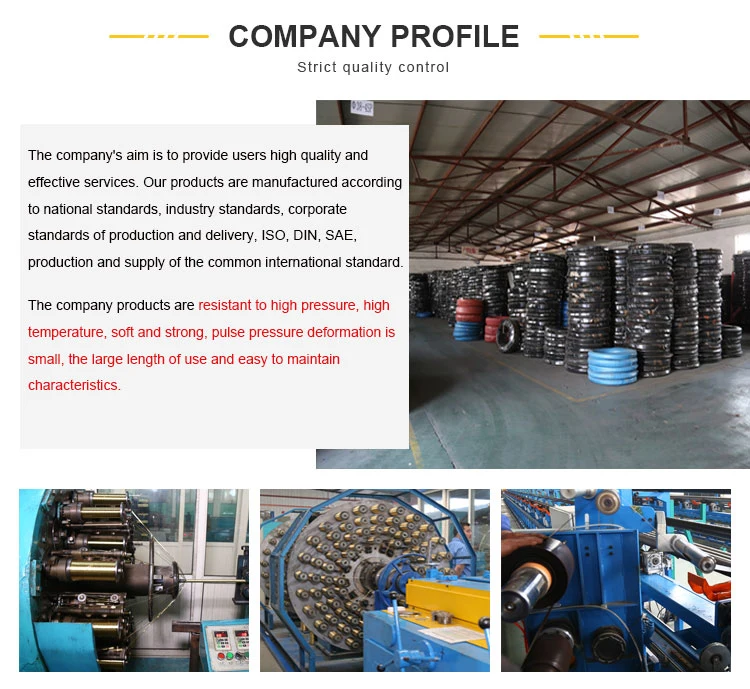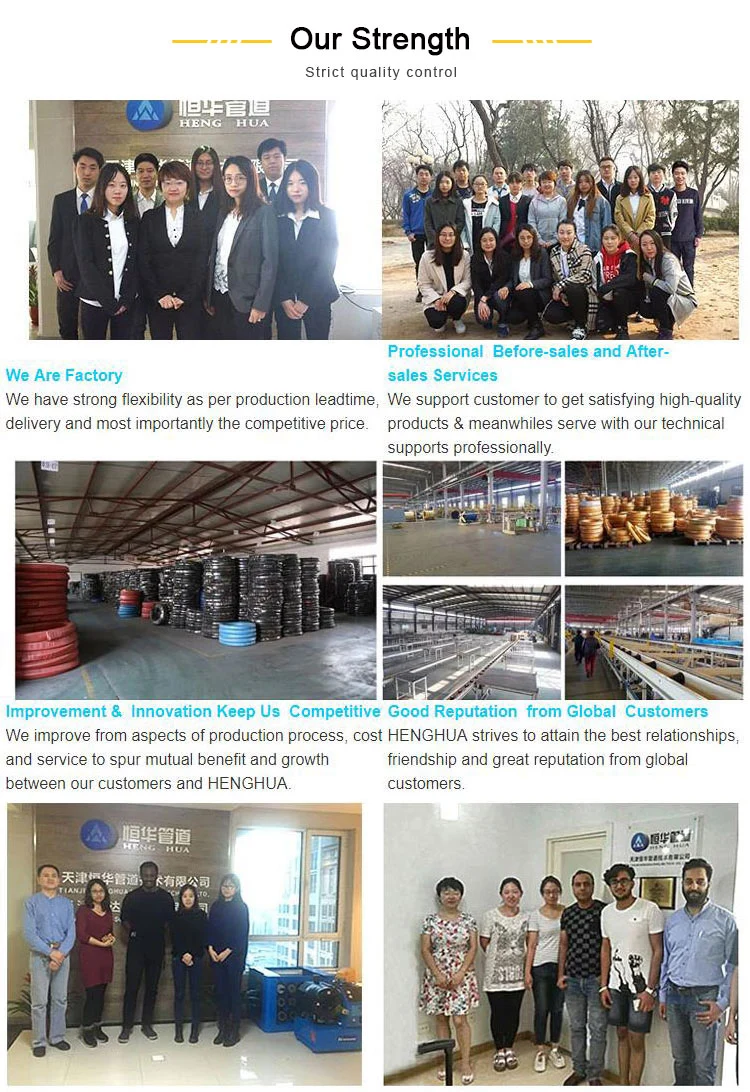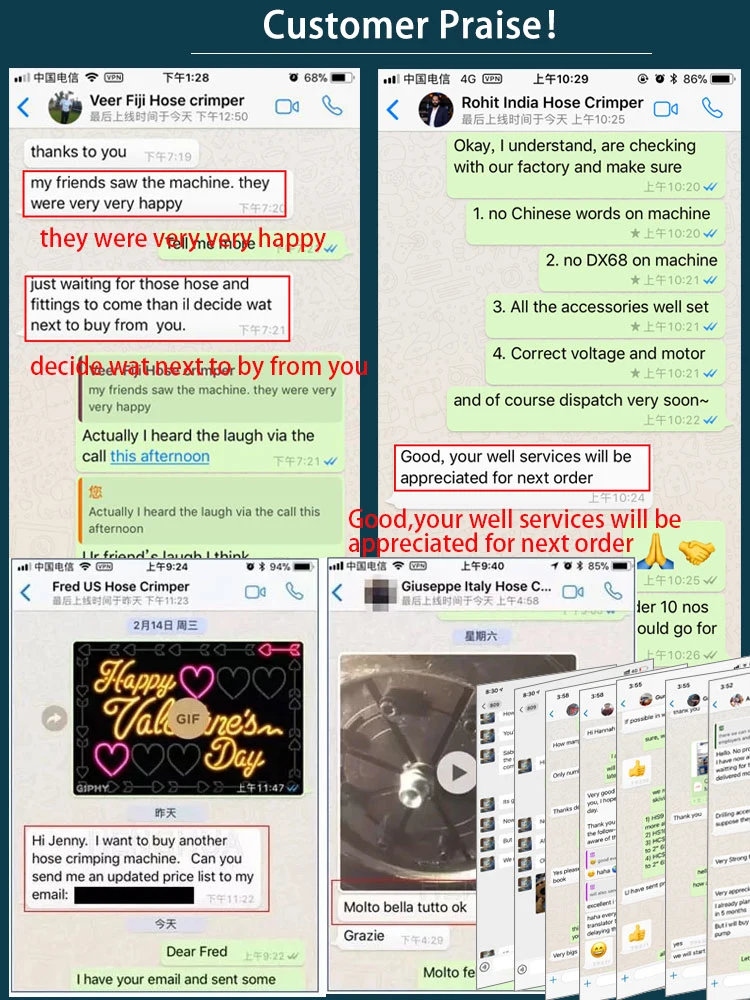 FAQ:

1.What hose do you provide?
HENGHUA pipeindustry company offer hundreds of products. Main hose products:
high pressure steel wire braided hose,
high pressure steel wire spiral rubber hose,
steel wire winding hose,
flame retardant,resistance to high temperature and high pressure drilling hose
assembly,marine high pressure oil hose,
expansion pipe,
metal hose,
rollers,
rubber seals,etc

2.What are the product applications?
Mining, hydraulic support, hydraulic system, emulsification pump, construction machinery, coal mine underground water delivery, feng shui working face, water delivery, oil transportation, sand pumping, mud discharge, suction dust, exhaust gas, ash, engine gas pumping, Gas drainage / gas discharge / warm air duct

3.What are your advantages?
High quality, complete specifications, stock in stock. company has passed ISO9001:2015 international quality management system certification, ISO14001:2015 environment management system certification. HOSAS18001:2007 certification of safety management system certification,mining products safety sign,etc.

Products are sold well all over the country, and exported to India,British,Russia,Turkey,Germany, the United States and other countries,favored by the users.