Product Introduction
V-type mixer
is suitable for the mixing of dry powder and granule materials for pharmaceutical, chemical and food. The mixing barrel of the machine has unique structure, uniform mixing, high efficiency and no accumulation. The whole machine has a simple structure and easy operation. The outer surface and material contact parts are made of high quality stainless steel, which is beautiful in appearance and convenient for maintenance and cleaning.
Widely application
V mixers are commonly used in pharmaceutical, nutriceutical, chemical, food and related industries to mix dried powder and granules.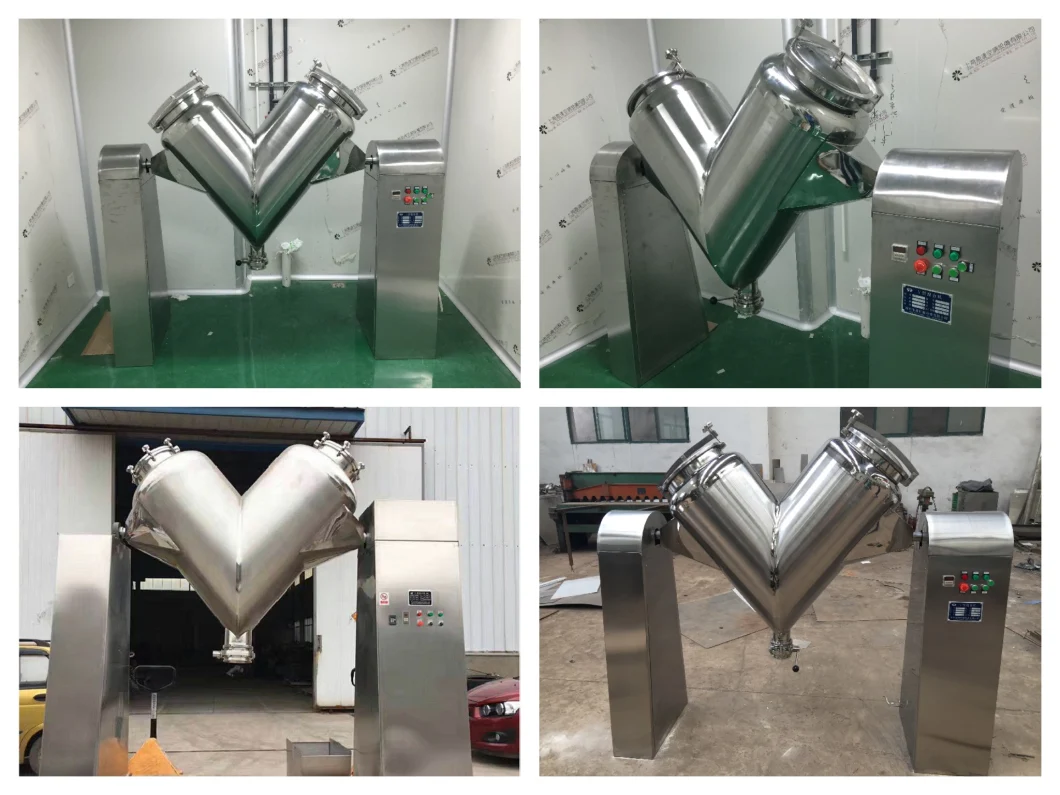 How it works?
The V-type mixer
is composed of a V-shaped cylinder, a closed bracket, a transmission, a control system, etc. The motor is equipped with a motor and a reducer at one end, and the motor is transmitted to the reducer through a belt, and the reducer is transmitted to the reducer through the coupling V bucket. The V-shaped barrel is continuously operated, and the material is produced by two different lengths of cylinders during the rotation process, so that the materials are cross-mixed with each other, and the materials are mixed in the upper, lower, left and right sides of the barrel, and the mixing uniformity is up to 99%.
Features
1. Strong construction with high quality 304 stainless steel
Full body adopt high quality 304 stainless steel, the inner and outer walls of the mixing cylinder are precision polished, the surface is smooth, flat and no hidden corner for easy cleaning.
2.Noise-less during the working process3.Precisely electrical control system4.Adopt stainless steel butterfly valve to discharge materials, no leakage.5. Equipped with an intensifier bar to increase effiency
The V blender can be equipped with an intensifier bar according to client requirement, which helps in mixing and breaking up materials more efficient.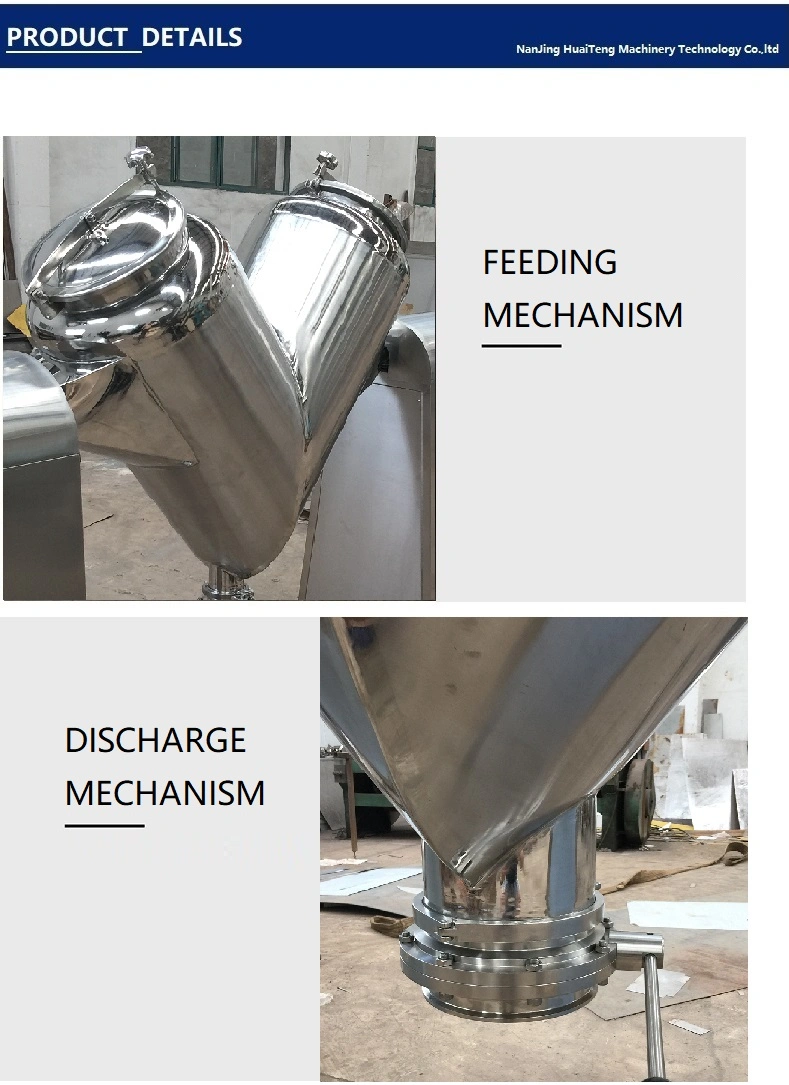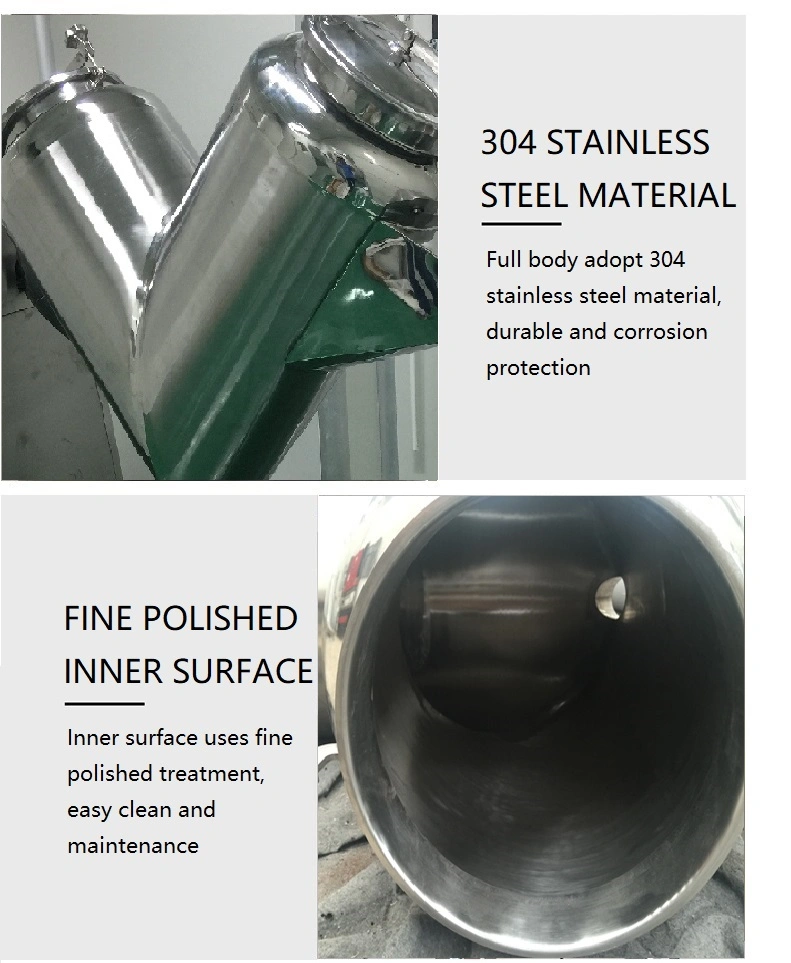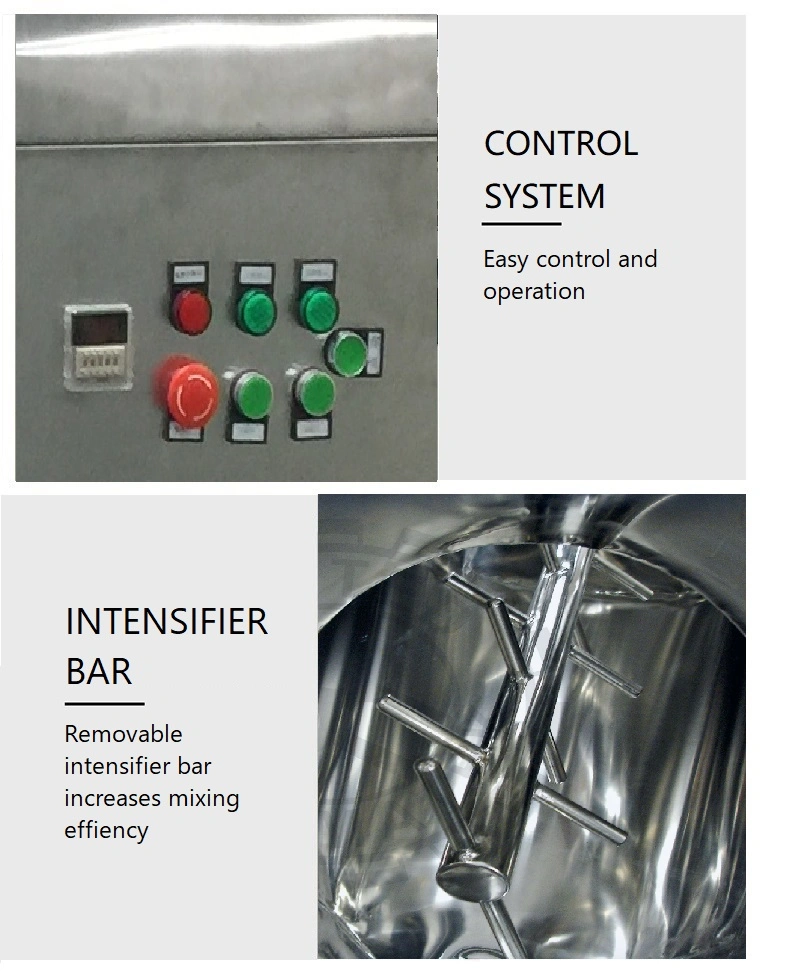 Technical Parameter
| | | | | | | | | | |
| --- | --- | --- | --- | --- | --- | --- | --- | --- | --- |
| Model | volume(L) | Maximum loading (%) | Production capacity(kg) | Feeding time(min) | Mixing time(min) | Stirring speed(r/min) | Motor power(kw) | Outlet Dia.(mm) | Swing height(mm) |
| VH-180 | 180 | 40 | 72 | 3-5 | 4-8 | 12 | 1.1 | φ100 | 1600 |
| VH-300 | 300 | 40 | 120 | 3-5 | 6-10 | 12 | 1.1 | φ100 | 1780 |
| VH-500 | 500 | 40 | 200 | 4-6 | 6-10 | 12 | 2.2 | φ150 | 2400 |
| VH-1000 | 1000 | 40 | 400 | 6-9 | 6-10 | 12 | 4 | φ150 | 2850 |
| VH-1500 | 1500 | 40 | 600 | 6-10 | 6-10 | 12 | 4 | φ200 | 3000 |
| VH-2000 | 2000 | 40 | 800 | 6-12 | 6-10 | 12 | 5 | φ200 | 3250 |
| VH-2500 | 2500 | 40 | 1000 | 6-15 | 6-10 | 12 | 7.5 | φ250 | 3680 |
| VH-3000 | 3000 | 40 | 1200 | 10-15 | 8-12 | 10 | 7.5 | φ250 | 3720 |
| VH-4000 | 4000 | 40 | 1600 | 15-20 | 8-12 | 10 | 11 | φ250 | 4350 |
| VH-5000 | 5000 | 40 | 2000 | 18-25 | 8-12 | 10 | 15 | φ300 | 4800 |
| VH-6000 | 6000 | 40 | 2400 | 20-30 | 8-12 | 10 | 18.5 | φ300 | 5300 |