Vacuum Hot Press Sintering furnace PLC automatic control industrial vacuum furnace
Application of Vacuum Hot Press Sintering furnace PLC automatic control industrial vacuum furnace
The vacuum hot pressure furnaces is used kinds of ceramic as below:
metallurgy(MIM and CIM), cemented carbide, technical ceramics (MLCC, LTCC, HTCC), 3D-Printing etc.
The vacuum sintering furnace is mainly composed of: water cooled steel container with double layer, heating chamber, vacuum system, hydraulic system, cooling water system, protective atmosphere system, control system.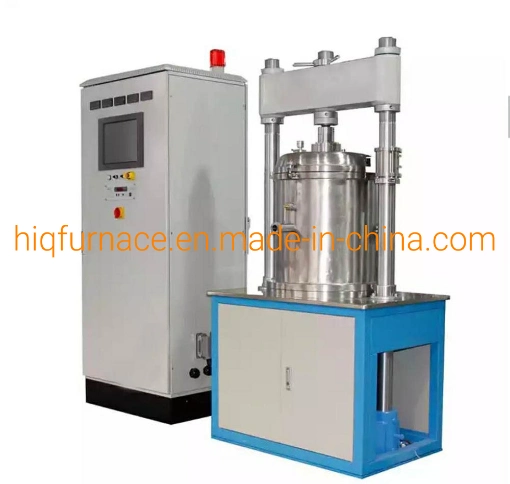 Sinter HIP furnace series are designed to integrate the functions of pressure de-waxing, vacuum de-waxing, vacuum sintering, TORVAC, partial pressure sintering, pressure sintering, atmosphere sintering, fast cooling and etc.With atmosphere sintering function, process gases like Ar, H2, CH4 and N2 could be used to control chamber atmosphere of de-waxing and sintering process.Horizontal design for easy loading, unloading and maintenance.Automatic control during whole process.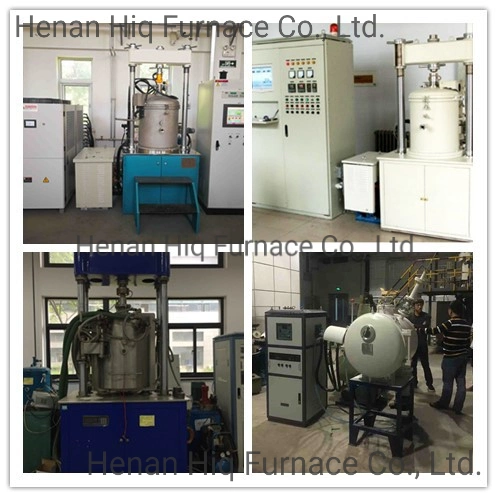 Features of Vacuum Hot Press Sintering furnace PLC automatic control industrial vacuum furnace
1. Furnace body: double layer 304 stainless steel water-cooling structure, precision polishing, which is conducive to shorten the extraction time, and is easy to clean;
2. Furnace cover: double-layer water-cooled structure, with 304 inside and outside walls and precision polishing treatment, and cooling water in the middle.
3. Heating, heat preservation and temperature measurement system: the heating system uses graphite cylindrical heater to not only guarantee the best temperature uniformity and the artifact of uniform heat, but facilitate the maintenance and replacement of heating elements. The heat insulation screen on the side and the bottom is made of a composite insulation layer composed of hard felt and soft felt, which is processed into an integral heat insulation system. The machine adopts Silicon controlled to control temperature , equipped with PID function instrument, digital display meter, with over temperature sound and light alarm function. It can also choose PLC touch panel to achieve automatically control, and retain historical data to be easy to analyze the sinter process.

4. Vacuum system: it is composed of oil diffusion pump, roots pump, mechanical pump equipped with electromagnetic differential pressure valve (to prevent sudden power failure and mechanical pump oil backward), filling valve, air release valve, vacuum butterfly valve, vacuum pressure gauge (Pa), corrugated pipe, vacuum pipeline and support, etc.
5. Inflation system: it is composed of various pipelines and valves, equipped with electromagnetic deflation valve and pressure sensor. It will automatically discharge gas When the pressure in the furnace is higher than the security value. Needle valve is installed on the gas tube, which can control the inflating volume, and is used to fill argon and nitrogen in the atmosphere required for sintering process.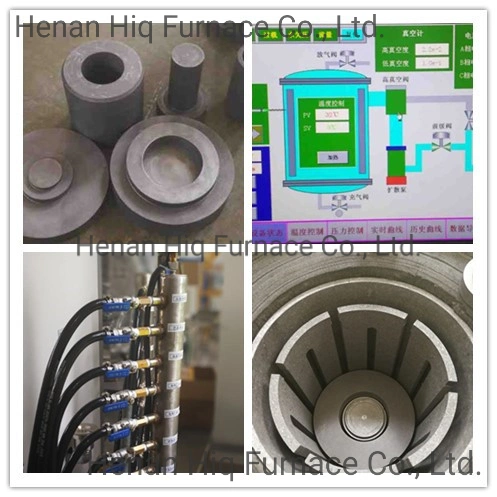 Techanical parameters of Vacuum Hot Press Sintering furnace PLC automatic control industrial vacuum furnace
Model
Heating element
Max,temp
Ultimate vacuum
Pressure
Working size
Power
KW
Volume
Protective
gas
HIQ-22HP-9
Molybdenum/Tungsten
/Graphite
1700/2400
6.7X10-4Pa
10T
Dia90*120
25
0.7
N2,Ar,H2 etc
HIQ-22HP-15
20T
Dia150*160
40
2.8
HIQ-22HP-18
20T
Dia180*200
65
5
HIQ-22HP-24
50T
Dia240*250
80
10
HIQ-22HP-30
100T
Dia300*320
120
20
HIQ-22HP-50
100T
Dia500*800
160
150
HIQ-22HP-65
100T
Dia650*800
250
250
HIQ-22HP-57
100T
Dia750*1500
500
650
HIQ-22HP-90
100T
Dia200*2000
750
1200
Our factory have rich experience for vacuum furnace, can design furnace according to your need, If you have any requirments, plz feel free to contact with me.