Sanyi is the only professional manufacturer focus on PVC plank/tile/sheet Machine at present in China from the year of 2006

Sanyi SJSZ92/188 Plastic Floor Tile Waterproof PVC Floor SPC Vinyl Floor Extruder Machinery Manufacturers
include 1 extruder SJSZ92/188(include the 1 set of Electric Cabinets),the motor is 110KW imported Germany SIEMENS,the max output is about 700kg/h
1)Surface can be laminated with different design decoration film
2)Laminate wear-resisting layer at top surface
3)Emboss with different design
4)Sound insulation cushion layer can be laminaed at bottom side
We are the only factory uses imported German SIEMENS electrics for Sanyi Plastic Floor Tile Waterproof PVC Floor SPC Vinyl Floor Extruder Machinery Manufacturers

Finished Product Size
(970mm)1220mm with thickness:2mm-8mm
Main Material
PVC/CaCO3/Processing Additives
Extruder
SJSZ92/188
Production Capacity
700kg/h
Air Pressure
0.6-0.8Mpa/min
Power Supply
3P/380V/50HZ or Customized
Inverter
German SIEMENS(G120 series)
Main motor/AC Contactor/Thermal overload Relay/Breaker etc
German SIEMENS
PLC System
German SIEMENS(Top Series)
Termparture Controller
Japan OMRON
Screw
Specially design for SPC Flooring
We are the unique stragetic partner of SIEMENS in China for Plastic Floor Tile Waterproof PVC Floor SPC Vinyl Floor Extruder Machinery Manufacturers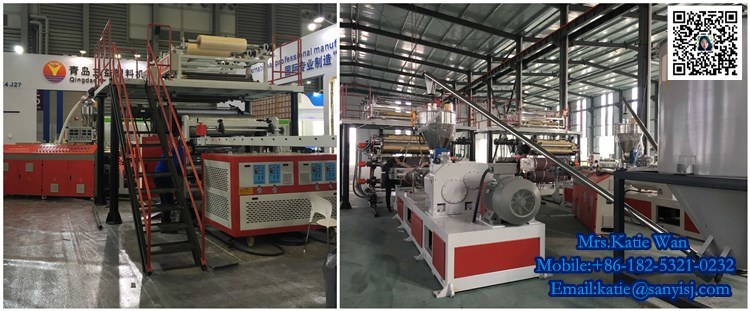 Production Flow
Plastic Floor Tile Waterproof PVC Floor SPC Vinyl Floor Extruder Machinery include
1)SJSZ92/188 Conical twin-screw extruder
2)T type Mould
3)5-roller Calender System with online lamination device with the newest:"7"type
4)Cooling Bracket+Air Curtain
5)Side Trimming Device
6)Haul off device
7)Precision shearing machine
8)Stacker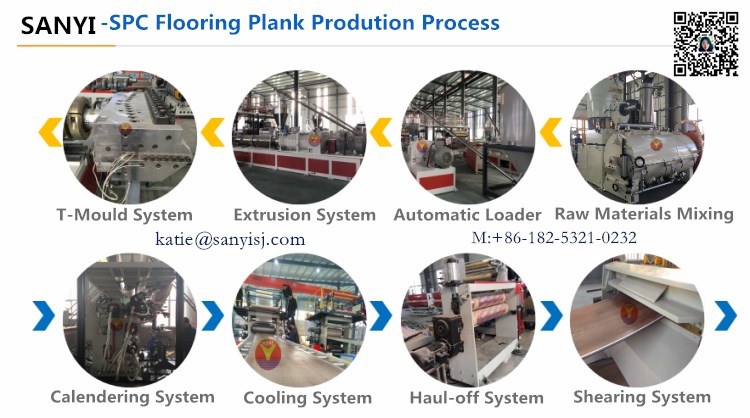 Auxiliary Machines for your choice
We provide the Auxiliary Machines of Sanyi Plastic Floor Tile Waterproof PVC Floor SPC Vinyl Floor Extruder Machinery
No.

Name of Machine

Type

Quantity

1

Crusher

SWP380

1 set

2

Grinder

SMF660

1 set

3

High Speed Heat/Cooling Mixing Machine

SRL-Z500/1000

2 sets

4

Automatic Robot

1 set
SPC Flooring
All is known to all,the SPC(stone plastic compoiste)Flooring also called Rigid Vinyl Plank(RVP) is an upgrade of LVT(Luxury Vinyl Tiles) and it is representative of 21st century new high-tech ground materials because of the excellent stability and durability
The whole process of SPC Flooring does not use glue, paint and other substances containing formaldehyde and toluene. The materials used are non-toxic formaldehyde free, waterproof sterilization, convenient installation, realistic lines, super wear-resistant waterproof, flame retardant and heat resistant
Sanyi is the professional manufacturer speciliazes in the SPC flooring machine in China and always on the road for innovation; We have the great confident to assist you to produce the Top Quality SPC flooring with our technology support,market analysis,project analysis,cost analysis,seamless purchasing;Do you have the plan to produce the SPC flooring according to your customer request by yourself(DIY)?
a.zero benzene and formaldehyde,no glue and poisonous substance,and it can be 100%recycled;
b.stable perforance: no cracking, no expansion, no deformation, no maintenance and maintenance, easy to clean, save the cost of later maintenance and repair
c.Water proof and moisture proof. it can be used in an environment where traditional wood products cannot be applied;
d.fire retardant: fire rating B1 level;
e.anti-insect,termite-proof,antibacterial new flooring;
f.Good sound absorption effect:upto 20dB which is suitable for places such as: hospital,library;
g. easy installation: both interlocking click lock system or dry back are ok;
h.colorful wood grain decorative film to choose from and together with embossing pattern,the SPC flooring offers a wood look also wood touching feel.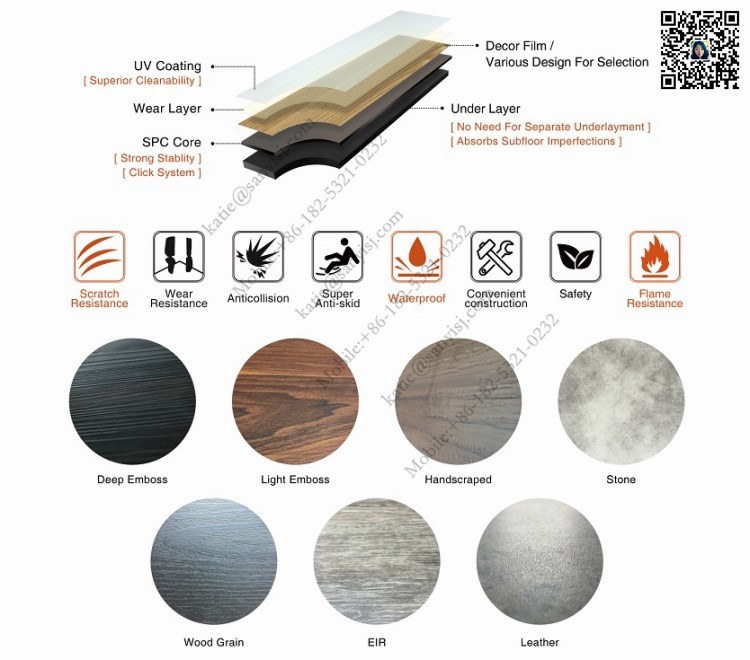 Sanyi Plastic Floor Tile Waterproof PVC Floor SPC Vinyl Floor Extruder Machinery can produce
SPC Flooring Plank including:UV Coating Layer,Wear Layer,Decorative Layer,SPC Core Layer,XIPE/CORE layer(optional)

After launched the SPC Flooring Plastic Machinery ,we release the Newest SJSZ92/80 (Stone Plastic Composite) SPC co-extrusion Flooring Plastic Machinery and we called it ABA-SPC
ABA structure SPC Core Flooring Plank including: UV Coating Layer,Wear Layer,Decorative Layer,SPC Top Layer,SPC Middle Layer,SPC Bottom Layer with higher stability,flexible formula etc
The PVC/SPC Flooring produced by Sanyi Plastic Floor Tile Waterproof PVC Floor SPC Vinyl Floor Extruder Machinery is widely used in many different lines for various application including:Department Store,Hotel,Restaurant,Bank,Office,Residence etc


Certifications
Why you choose SANYI
Qingdao Sanyi Plastic Machinery Co., Ltd

We are the China leading professional manufacturer specializes in PVC plank/panel/board/sheet Machinery
We are the only factory uses German SIEMENS electrics for our PVC plank/panel/board/sheet Machinery
We only focus on the Top Quality PVC plank/panel/board/sheet Machinery development/production/sales
We take much attention our brand reputation
We take much attention the SERVICE
We have the most professional engineer teams in the world
We have at least 12 years experience
We are always on the way for INNOVATIONS
We are more than Machinery manufacturer...
SANYI is the unique Chinese factory provides the LIFE-LONG service system as we take much attention the feedbacks from our customers
Pre-sale service:
To provide information and market research,to provide consultation,to provide many kinds of conveniences and market service,etc.
The main purpose of pre-sales service is to help customers make the project planning and system requirements analysis. Make our products maximum to meet clients' requirements. Also play the greatest overall economic benefits of customers' investment.
After-sale service:
To install products and test products freely for customers.
To provide the formulas and technologies of relevant products and the information of chemical materials manufactories.
To direct technology aspect of relevant use according to customers' requirements
To provide technical training for clients' employees.
To be responsible for maintenance service, door-to-door service under the necessary circumstance.
Technology support:
To provide installation and test for the machine.
To provide formulas and technology of relevant products.
To provide information of chemical material manufactories.
To provide technical training for clients' employees.
SANYI is the 1st company running the Sanyi Plastic Floor Tile Waterproof PVC Floor SPC Vinyl Floor Extruder Machinery at the exhibition of 2018 CHINAFLOOR/DOMODEX