Hot Sale High Quality First Class V Type Powder Mixing Blender Machine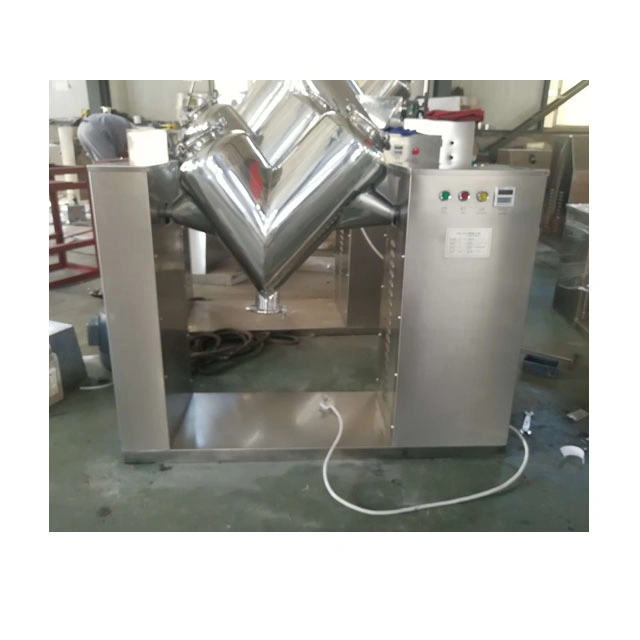 Product Description
Introduction and Features
It used to mix the dry powder and granular materials. With the unique mixing barrel, mixed evenly, high efficiency, no accumulation expected.
The structure is simple, operation is easy. The contacted parts with materials are made of stainless steel, with beautiful shape, easy for maintaining and cleaning.
It is equipped with motor and reducer, the motor power transmit to the reducer by belts, then transmit to the V-drums by the coupling, which make the V-drums continue running, driving materials mixing fully.
Technical specifications
VH series mixer technical parameters
model

VH8

VH14(one

arms)

VH14(two arms)

VH20(two arms)

Full volume (L)

8

14

14

20

Net volume (L)

3.2

5.6

5.6

8

Loading factor

40%

40%

40%

40%

Maximum capacity (kg)

4

7

7

10

The best loading (kg)

2.2

4.2

4.2

5.6

Diameter of barrel (mm)

φ133

φ160

φ160

φ220

Inlet diameter (mm)

φ76

φ108

φ108

φ133

Outlet diameter (mm)

φ76

φ76

φ76

φ76

Motor power (KW)

0.55

0.55

0.55

0.55

Speed (r/min)

24

20

20

20

Dimensions (length, width and height mm)

810×350×625

925×350×825

930×350×840

1195×350×885
| | | | | |
| --- | --- | --- | --- | --- |
| model | VH30(one arms) | VH30(two arms) | VH50 | VH100 |
| Full volume (L) | 30 | 30 | 50 | 100 |
| Net volume (L) | 12 | 12 | 20 | 40 |
| Loading factor | 40% | 40% | 40% | 40% |
| Maximum capacity (kg) | 15 | 15 | 25 | 50 |
| The best loading (kg) | 8 | 8 | 14 | 28 |
| Diameter of barrel (mm) | φ255 | φ255 | φ300 | φ355 |
| Inlet diameter (mm) | φ133 | φ133 | φ160 | φ160 |
| Outlet diameter (mm) | φ76 | φ76 | φ80 | φ100 |
| Motor power (KW) | 0.75 | 0.75 | 0.75 | 1.1 |
| Speed (r/min) | 20 | 20 | 20 | 15 |
| Dimensions (length, width and height mm) | 990×350×860 | 1170×370×1015 | 1350×460×1160 | 1580×650×1460 |