Iron alloy gas generator/blast furnace gas generator/semi-coke gas generator/oil shale gas generator/calcium carbide gas generator
Syngas-biomass generations are driven by low speed 300 series engines, the gas fuel can be generated from gasification of MSW, woodchips, sawdusts, rice husks, straws, coconut shells, coal gas, coking gas, coke oven gas and pyrolysis gas etc. Low Speed 300 engines are specially designed for syngas as fuel, with remarkable features of low speed, big cylinder, big displacement, naturally aspirated and strong resistance ability against the TAR, highly reliable, durable,
the overhaul can reachover 60000 hours.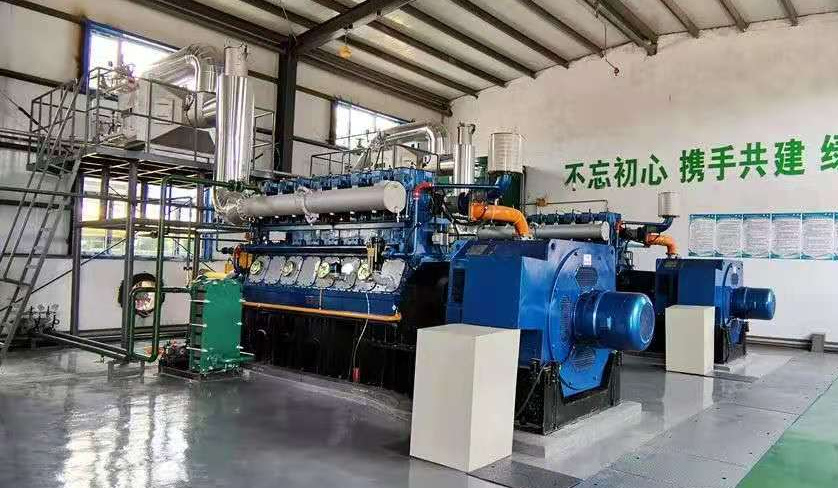 Gas Generator Specification
Item

Technical specification

Engine

Model

6300D/M

6300D/M-1

8300D/M-2

8300D/M-3

9300D/M-1

9300ZLD/M

Type

Inline, water cooled, four stroke, spark plug ignition

Non-turbocharged

Turbocharged

Cylinder number

6

8

9

Cylinder diameter (mm)

300

Rated speed(r/min)

500

600

600

600

750

600

Rated power (kW)

330

440

550

660

880

1320

Rated thermal consumption(MJ/kW

·

h)

≤11.0

Rotate direction (From flywheel)

Clockwise

Start mode

Compressed air /motor start

Compressed air start

Exhaust temperature (

ºC

)

≤600

≤650

Oil consumption

(

g/kW

·

h

)

≤0.8

≤1.0

Generator set

Type

300GFM

400GFM

500GFM

600GFM

800GFM

1200GFM

Rated power

(

kW

)

300

400

500

600

800

1200

Frequency

(

HZ

)

50

Voltage

(

V

)

400/6300/10500

Current

(

A

)

541/34/21

722/46/28

902/57/34

1083/69/41

1443/92/55

2165/137/82

Power factor

(

COSΦ

)

0.8

(Lagging)

Phase and connecting

3phases 4wires /3phases 3wires

Dimension (L×W×H)

(

mm

)

5800×1600×2900

6400×1600×2900

8500×1900×3500

8500

×

1900×3700

Weight

(

kg

)

18000

22000

41000

42000
Customer Benefits for Syngas-Biomass Engines
• Cylinders Structure in Line & Upright & Concise Layout, which means simple, easy and low cost in operation & maintenance. Engine-Overhaul can be handled at user's site.
• Large cylinder (300mm), long stroke, low speed and big displacement 215L and 242L, which means big reserve power capacity and constant power output.
• Low engine speed at 500 or 600rpm, which means high reliability for continuous operation, sufficient combustion, low exhaust gas temperature and high heat efficiency.
• Naturally aspirated (no turbocharger and Intercooler), which means low failure rate and minimum downtime (TAR in syngas always block and damage turbocharger and intercooler).
• Internal mixing system (for high hydrogen gas over 15%), gas and air intake separately, then mixed in combustion room, which means no risk of backfire and cylinder knocking.
• Strong treatment and resistance ability against TAR, long term trouble free operation. TAR always raises problems of
pipeline-blocking, cylinder-pollution and spark plug-jamming etc.
• Compressed Air Starting System, smooth starting, high success rate and easy for maintenance.
• Open Cooling System, adopting plate-type heat exchanger, high efficiency and easy for scale-removal.
• Dismountable intake-valve-box, which means can clean TAR easily and conveniently (no need disassembling of cylinder head).
• Low-speed engine makes the noise lower. The maximum noise ≤100dB. Through silencer, the noise will be ≤70dB.
•
Low speed means low components wearing, namely lower cost in spare parts replacement and long life span.
• Long Overhaul Time of 60,000 hours and lifecycle of 20-25 years, which ensure sustainable financial rewards of power plant.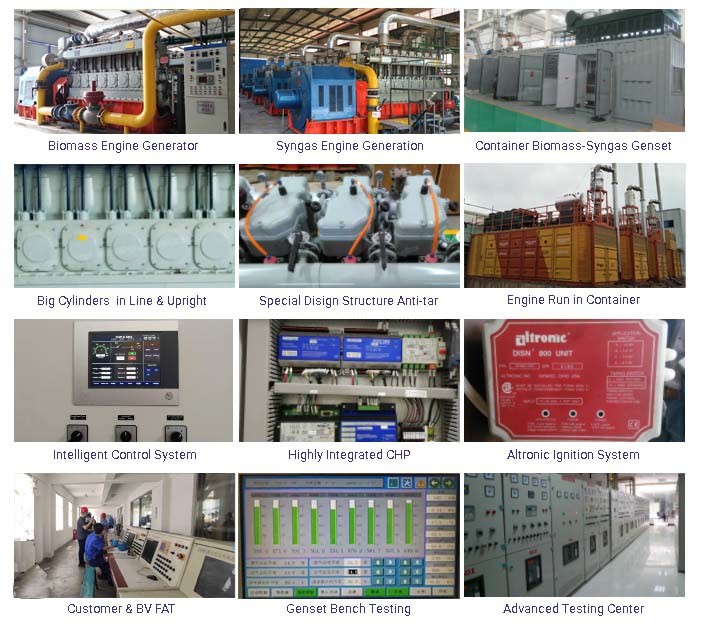 • Biomass from MSW, Woodchips, Sawdust, Straw, Rice husks, Nut-shells, and Chicken manure etc.
•
Industrial tail gas & refinery gas, such as coal gas, coking gas, semi-coke gas, coke oven gas, oilshell tail gas, carbide tail gas, ferrochromium tail gas, yellow phosphorus tail gas, producer gas and paralysis gas etc.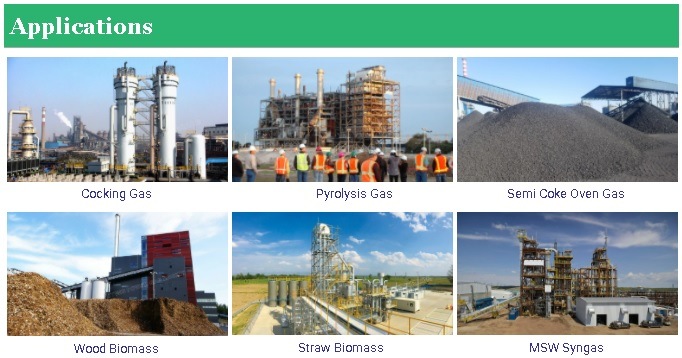 Requirements for Syngas-Biomass Quality
Before entering into engine, the syngas should be treated with dust-removal, tar-removal, desulfurization, dewatering and cooling process, to meet up following requirements:
•
Gas pressure 2.5~10kpa (3~5kpa is better), pressure change rate≤1kPa/min;
•
Moisture Content ≤40 g/Nm3 (without free water);
•
Impurity content≤30mg/Nm3, Impurities particle size≤5μm;
• Tar content≤50mg/Nm3, H2S content≤50mg/Nm3, Total Sulfur content ≤100mg/Nm3;
•
Ammonia content≤20mg/Nm3, Chlorine content ≤50mg/Nm3
• Hydrogen volume content≤50%, Oxygen volume content≤1%;
•
The capacity of syngas pressure-buffering tank should match well with the generator's gas consumption.
Why Zichai Gas Generator Set?
1. Development and manufacturing internal combustion engine since 1970
2. Factory area over 330000m2 & over 2200 employees
3. Highly versatile power generator with ability to handle more than 20 different gases
4. More than 200 employees dedicated to developing and improving power generator for various gas.
5. More than 1000 systems installed in over 20 countries using a variety of gases.
6. More than 50 people in the Customer Service Department making the Organization very Customer Responsive.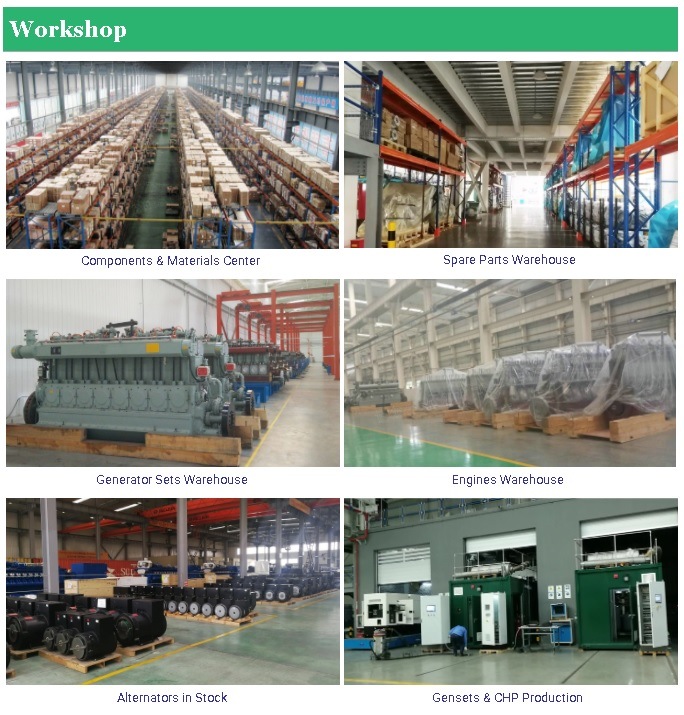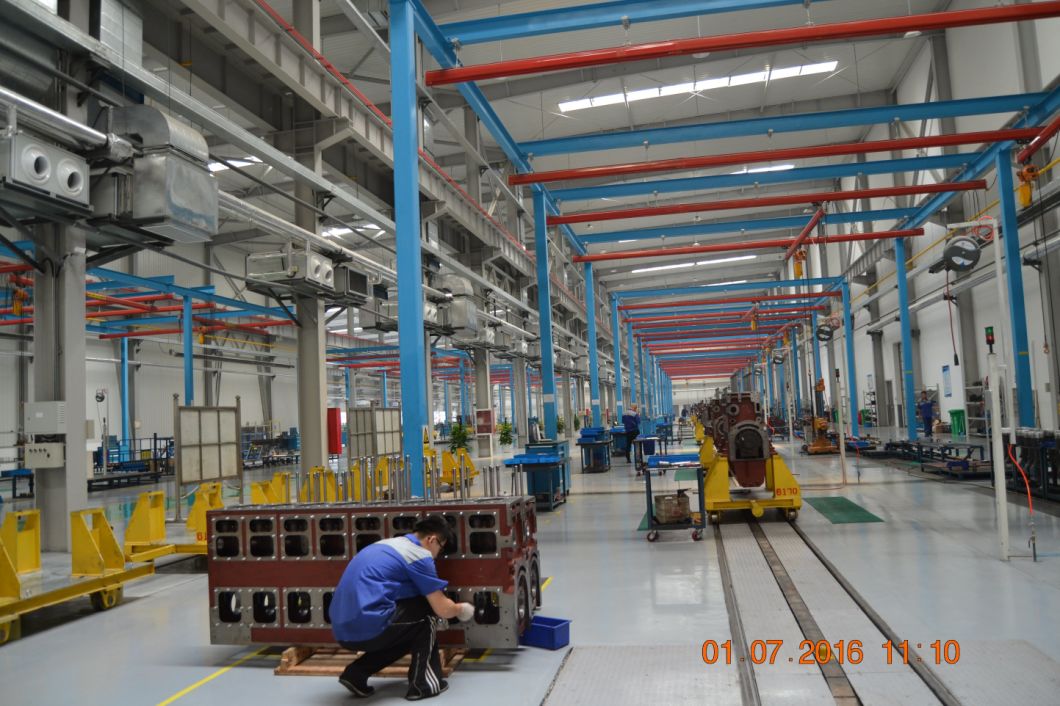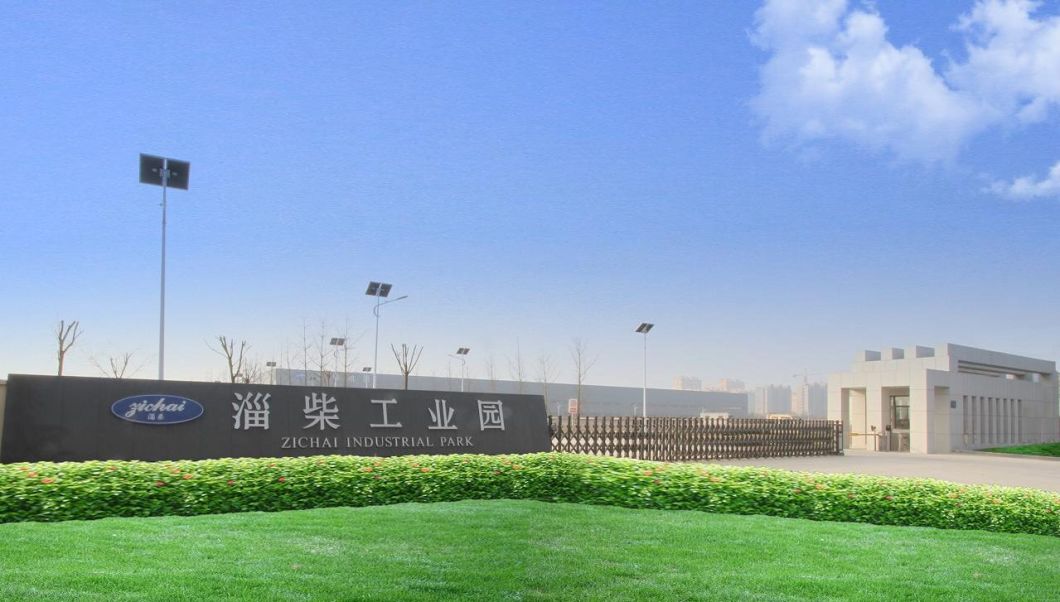 Project References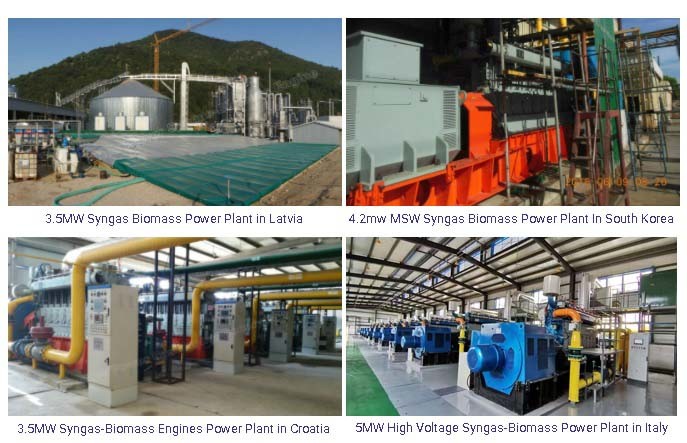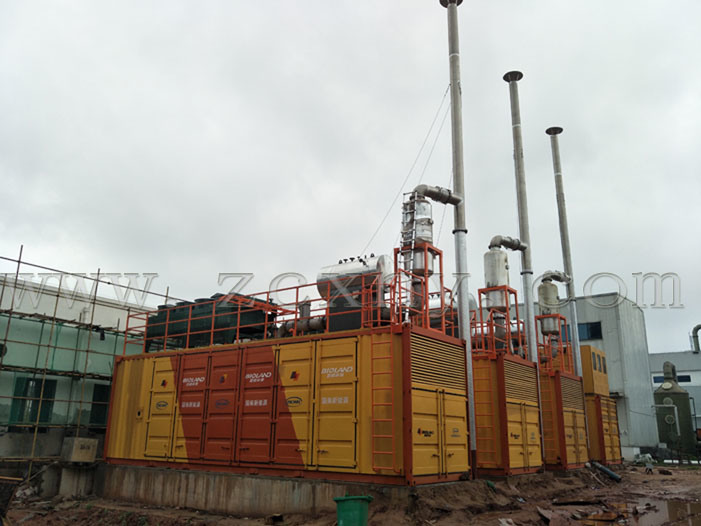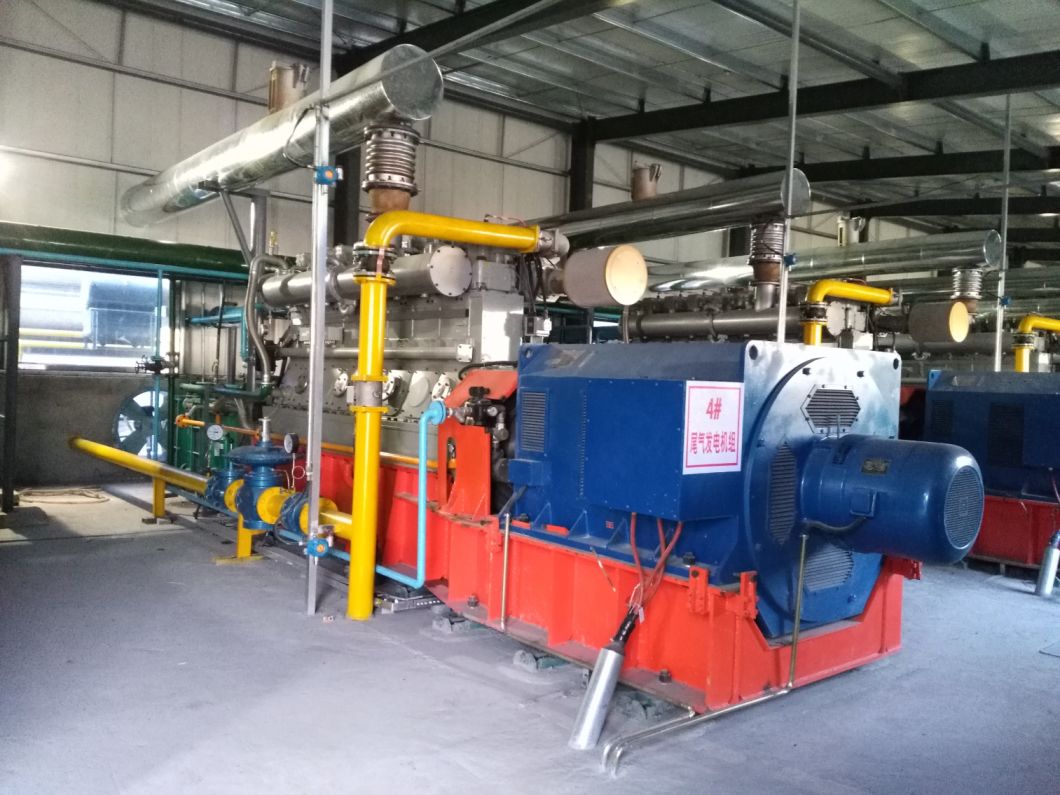 Our customers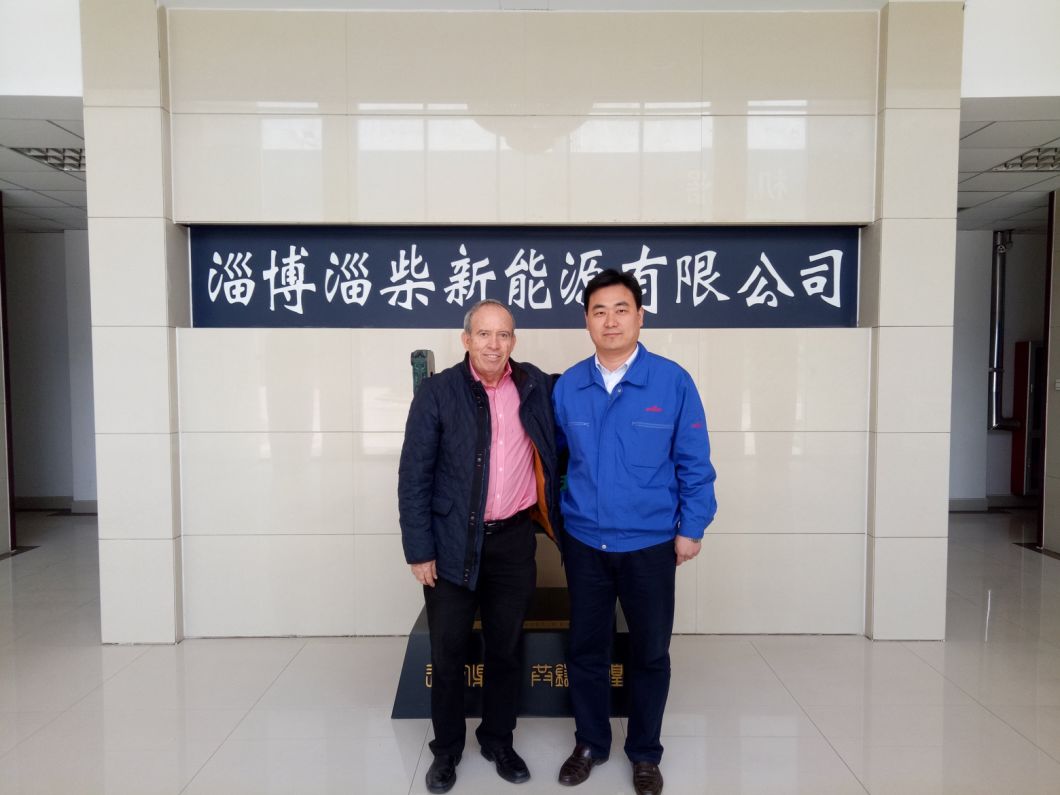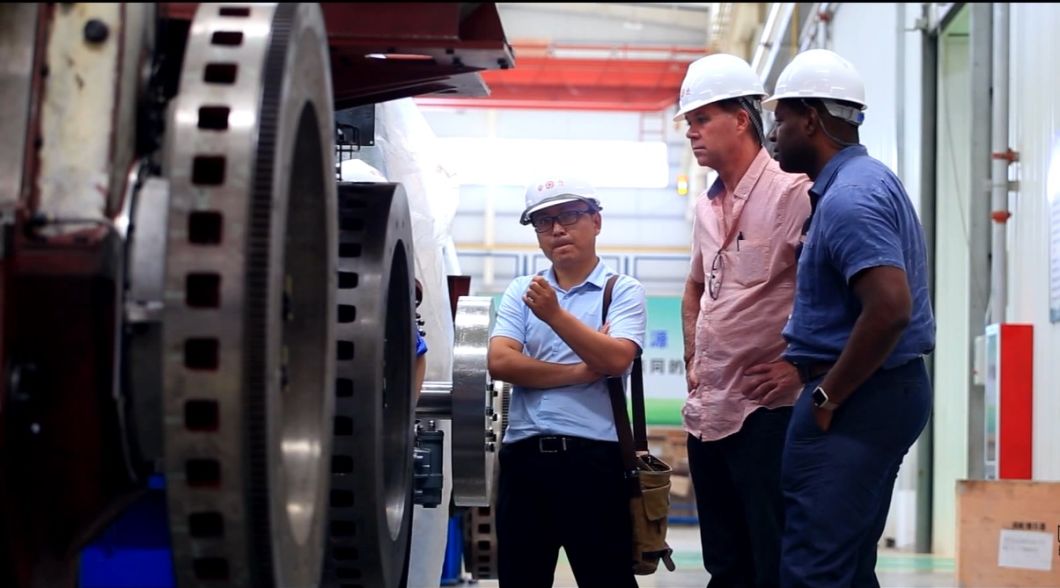 FAQ
1.Are you a trading company or manufacture

?
Manufacture with factory.
2.What kinds of gas generator set do you produce?
It covers for all kinds of gas produced in agriculture and industry, including biomass gas, biogas, natural gas, coal mine gas, coke oven gas, semi-coke gas and syngas, as well as related gas produce equipment.
3.What is your delivery time?
Normally within 60days, it depends on the configuration and quantity, please confirm with us before order.
4.What is your payment terms?
T/T or
L/C.
5.How do you pack products?
Standard export packaging. Equipment packing with plastic bag, and with new solid wooden box, suitable for long-distance sea transportation, moisture-proof, earthquake, rust-proof and anti-brutal handling.
6.What is your available port of shipment?
Normally Qingdao port, other ports available according to customers' requirement.